Impiety Reveals New Album "The Impious Crusade" Details
August 6th has been announced as the international release date for Impiety's brand-new "The Impious Crusade" mini-album.
The Singaporean band's first studio recording for Hells Headbangers, "The Impious Crusade" is locked into the maxim of crush/kill/destroy across the five tracks and 22 minutes. The release includes a cult cover of Sorcery's "Lucifer's Legions" and uniquely noble artwork sculpted by Lord Sickness. The track listing is:
1. Arrival of the Assassins
2. Commanding Death & Destroy
3. Accelerate the Annhiliation
4. The Impious Crusade
5. Lucifer's Legions (Sorcery Cover)
Enthuses founding frontman Shyaithan, "Mission accomplished, and honestly really satisfied with how this record turned out! The Impious Crusade is a giant leap ahead from the last Impiety album, and to top this one is going to be severely difficult. But that is what I enjoy most, and shall continue to further challenge myself pushing wider, deeper, and even further beyond boundaries of untamed death and chaos." A release date for the Hells Headbangers vinyl edition of Impiety's Vengeance Hell Immemorial compilation shall be announced shortly.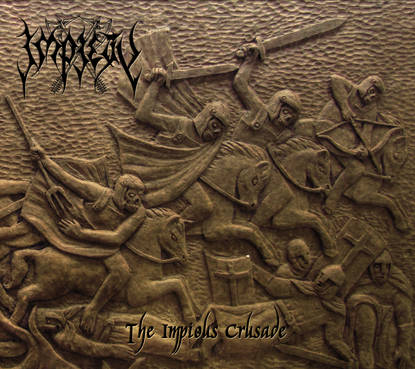 What's Next?
Please share this article if you found it interesting.
---
To minimize comment spam/abuse, you cannot post comments on articles over a month old. Please check the sidebar to the right or the related band pages for recent related news articles.