Sanktuary Announces New Album "Something Fierce" Release
Band Photo: Sanktuary (?)
Power thrashers Sanktuary are proud to announce they will be unleashing their debut album "Something Fierce" this coming July 2nd, 2013 via Canadian metal label Spread The Metal Records. Bassist Cole Hume comments:
"This journey has been quite the experience and we are incredibly stoked to unleash Something Fierce to the masses. So crack a cold one, strap on some clean undies and grab an umbrella 'cause this shit storm's coming soon to a record store near you."
Spawning from high school friendship and growing into something much more epic, Sanktuary kicked things off with two back-to-back EPs – 2009's self-titled release and 2010's "Black Magic Brew" – and soon followed that up with a massive move from Whitehorse, Yukon to Halifax, Nova Scotia.
After touring the country following and being faced with a major blow in Toronto that saw the band's van and gear stolen, Sanktuary turned things around with a third EP in 2011, "Tundrastruck" (a 3 way split with Black Moor and Metallian), followed by signing to Spread the Metal Records.
"Sanktuary was one of the very first bands that I looked at for my label, Spread the Metal Records. They've been with me from the beginning and I believe in them so strongly that I've never let them go. The way that they've matured on this record is nothing short of astonishing," comments Matthew Day of STM.
The album's track listing is:
1. Deadly Prey
2. Heat Lightning
3. Hail The Villain
4. Thrill Of The Kill
5. Screeching For Vengeance
6. Fire In The Sky
7. Beyond The Wall
8. Midnite Mass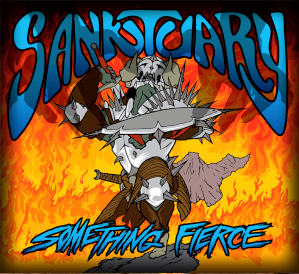 What's Next?
Please share this article if you found it interesting.
---
0 Comments on "Sanktuary Announces New Album Release"
Be the first to comment! Tell us what you think. (no login required)
To minimize comment spam/abuse, you cannot post comments on articles over a month old. Please check the sidebar to the right or the related band pages for recent related news articles.