Just For Fun
Immortal Announces Collaboration With Beyonce For New Single, Tour Dates
After "Lulu," the Korn and Skrillex combo, and similar collaborative efforts, it seems as though metal and the mainstream are destined to continue colliding. In one of the least expected collaborations, Norwegian black metal outfit Immortal has announced an upcoming single is due out with a guest appearance by none other than musical icon Beyonce.
Band members Abbath and Demonaz reportedly sought out the famous singer/songwriter on their own after an unflattering photo of Beyonce during her Super Bowl performance leaked online.
"When we saw the picture we knew she had a grimness in her struggling to be released, and we will be the vehicle of that kvlt apotheosis," said front man Abbath. "Honestly, it was like our photo shoots and videos from the '90s just staring right back at us. She gets what we are all about."
The new single will be titled "Diabolical Suga Mama in Black," and will follow the band's 2009 full-length "All Shall Fall" (reviewed here). Immortal and Beyonce have already been rehearsing for a string of special shows together, with further details to come.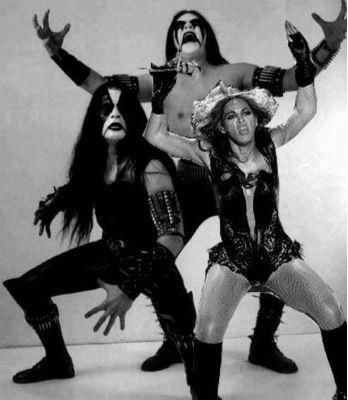 Read the full article at this location.
What's Next?
Please share this article if you found it interesting.
---
To minimize comment spam/abuse, you cannot post comments on articles over a month old. Please check the sidebar to the right or the related band pages for recent related news articles.