Crimson Shadows Announces New Tour Dates
Crimson Shadows will be touring with Vesperia starting this Saturday, March 30th in Belleville, ON and doing several dates all over Ontario and Quebec over the next 4 months, leading up to a West coast trek where both bands will be touring out to Victoria, BC. Drummer Cory Hofing comments:
"We are really excited to be hitting the road once again with our brothers in Vesperia! Seeing as myself and our bassist Morgan Rider play in both bands it makes sense to save on gas and time to tour together. Yes, this does mean we will be playing 2 sets back to back every night but we have done it before and I'm sure we shall do it more in the future!"
Upcoming Ontario dates for Crimson Shadows are as follows:
*March 30th - Belleville @ Belles Pub drs @7pm (Benefit for Red Cross)
April 6th - Brampton @ All Stars Sports Bar (Headlining set)
*April 12th - Oranageville @ Hogey's Pub
*April 13th - North bay @ Granite Curling Club
April 29th - Toronto @ Wreckroom W/ Arkona and Valfreya
*May 3rd - Brantford @ Charlies 43 Oak St.
*May 4th - Kitchener TBA
*May 10th - Hamilton TBA
*May 11th - London TBA
(*shows with Vesperia )
Crimson Shadows will be releasing a new soon-to-be-titled EP in the coming months, which is currently being mixed and mastered by Jonathan Lefrançois-Leduc at SilverWing Studios.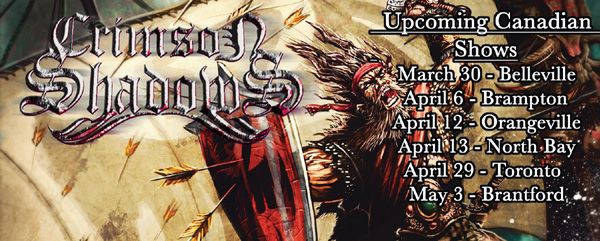 What's Next?
Please share this article if you found it interesting.
---
0 Comments on "Crimson Shadows Announces New Shows"
Be the first to comment! Tell us what you think. (no login required)
To minimize comment spam/abuse, you cannot post comments on articles over a month old. Please check the sidebar to the right or the related band pages for recent related news articles.