Valient Thorr To Release New Album "Our Own Masters"
Chapel Hill, North Carolina's Valient Thorr will release sixth studio album "Our Own Masters" on June 18th via Volcom Entertainment.
Recorded at Ronnie Jone Sound Studios in Athens, GA and produced, engineered, and mixed by Kyle Spence of experimental rockers Harvey Milk, "Our Own Masters" delivers twelve tracks of balls-to-the-wall rock that yearns to be played at full volume. The following press release was issued about the album:
"Formed in 2000, Valient Thorr plays loud, fast heavy music -- influenced by both metal and punk -- that draws creatively from touchstones such as AC/DC, Thin Lizzy and the MC5 (Motörhead might also be a point of reference here, though more in spirit than in sound).
"The band has a stranglehold on amped-up hard rock and stripped-down heavy metal, barnstorming stages across the world with its catchy, ass-kicking riffs, unmatched energy, fist-pumping anthems and hyper-agitated live show, led by front man and ringleader Valient Himself, whose highly entertaining, heady lyrics (the singer was once a college professor) become a call to arms for the band's legions of devoted fans -- nicknamed the 'Thorriors' -- that assemble in chapters and track the band from show to show, town to town.
"Valient Thorr is a group that averages between 200 and 250 live shows a year, be it on stage as beloved headliners exposing the world to developing new acts (see Royal Thunder, Red Fang) or criss-crossing the globe as special guests of peers such as Mastodon, Motörhead and Misfits.
"Our Own Masters is a triumphant display of crescendo-ing riffs, rousing vocals and canyon-wide grooves and a record set to remind the world why Valient Thorr's high voltage concoction of rock, metal and punk and formidable reputation proceeds them for a reason. The record's wild, extraterrestrial cover artwork (shown above) is taken from a 1975 painting by John Aylward, father of Valient Thorr drummer Jason Aylward."
The track listing is as follows:
1. Immaculate Consumption
2. Master Collider
3. Manipulation
4. No Strings Attached
5. Life Hands You Demons
6. Torn Apart
7. Cerberus
8. Good News Bad News
9. Insatiable
10. Crowd Pleaser
11. Nervous Energy
12. Call Off the Dogs
In celebration of the release of "Our Own Masters," Valient Thorr will launch a U.S. headlining tour, set to kick off on June 12th in Charlotte, North Carolina. The two dozen city trek will run through July 6th and feature support from Los Angeles' Gypsyhawk and Boston's Ramming Speed. Dates can be found at this location.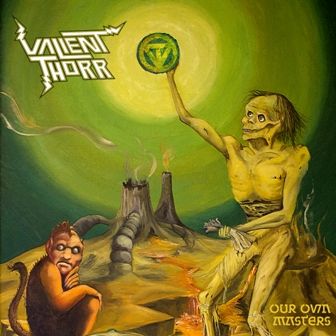 What's Next?
Please share this article if you found it interesting.
---
To minimize comment spam/abuse, you cannot post comments on articles over a month old. Please check the sidebar to the right or the related band pages for recent related news articles.