John 5 Has Equipment Stolen From Home
John 5 has posted the following message online via his official website about having equipment stolen from his home:
"As many John 5 fans have been hearing today, John and his family suffered a terrible violation of home and property when they were burglarized while out. A number of items have been stolen, many of why are rare, of invaluable sentiment and unique to John 5.
"Unfortunately our house was robbed today, we accidentally didn't put the alarm on, so some assholes got lucky! Whoever did this will get caught hopefully one day! We have details, including serial numbers were possible and a larger photo of some of the items that were taken. If you can help spread the word or look out in your local area, or dealers to anything that may come your way in your store, then please contact. Items stolen:
Make/Model: Fender Telecaster
Serial Number: R33725
Color: Sparkle Silver
Make/Model: Fender Telecaster
Serial Number: V137811
Color: Black with white piping
Make/Model: Normandy Telecaster
Serial Number: Custom
Color: Chrome
Make/Model: Gibson Les Paul
Serial Number: -
Color: Black with gold pick-ups
Make/Model: Deering Deluxe Banjo
Serial Number: 02256103B
Detail: 6 String Banjo
Item: Painting
Details: The Creature from the Black Lagoon painting on white frame. Custom painting by Rob Zombie
Detail: Happy Birthday J5
Item: RIAA Record Award
Details: R.I.A.A. awarded to John 5 and Rob Zombie for the album Educated Horses.
Detail: Happy Birthday J5
Item: Mac Computer
Details: Mac Book Pro Laptop OSX 1025
Item: Mac Computer
Details: Mac 21 Home Computer
"If you have any details that may be of help, please contact the authorities, send a message to John 5 on his Twitter and Facebook or contact here at the contact page using the contact form and make sure you choose 'Info regarding stolen items' in the drop down subject.
"Please circulate this info to guitar dealers, pawn brokers and have a look on eBay, Craigslist, Amazon etc – and remember IF you see anything you GENUINELY believe to be one of the items described PLEASE do not pursue on your own but contact the authorities."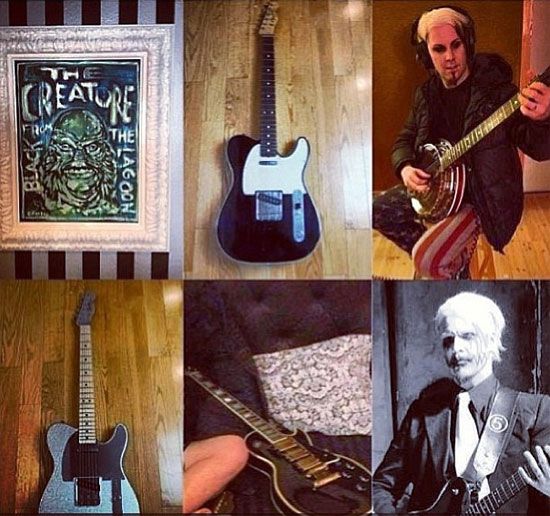 What's Next?
Please share this article if you found it interesting.
---
To minimize comment spam/abuse, you cannot post comments on articles over a month old. Please check the sidebar to the right or the related band pages for recent related news articles.