Vital Remains Announces Canadian Tour Dates
Band Photo: Vital Remains (?)
Blacktooth Entertainment and Dungeon Works Productions, along with the Heavy Metal Music Association of Canada (H.M.M.A.C.), present the American death metal band Vital Remains' upcoming Eastern Canadian tour. The following press release was issued about the run:
"With a new release in the works, Vital Remains will return to Canada with 24 years of experience, high-class musicianship, and a dedication towards their musical style that is hardly rivaled today and continuously slams a spiked fist into the face of every trend rearing its ugly head.
"In 2007, the extreme metal titans Vital Remains released 'Icons Of Evil,' a vicious slab of blasphemy that sent fear in the heart of the masses. That much-anticipated album marked the group's second recording with Glen Benton (Deicide) on vocals and was produced in the Florida based Mana Recording Studios by the renowned Erik Rutan (Cannibal Corpse, Hate Eternal, Goatwhore). Once again, that album was completely written by the group's founder Tony Lazaro (rhythm guitars & bass) with Dave Suzuki handling the lead guitar, drums and backing vocal duties.
"Drawing influence from classic '80s metal bands such as Venom, Celtic Frost, Bathory, Mercyful Fate, Sodom and Destruction, Vital Remains base their survival through a DIY underground approach that has earned them a rabid legion of fans since their foundation in 1989. However, after four full-length releases the group's biggest break came in 2003 as they signed to Century Media and released the genre-defying epic 'Dechristianize.' It was hailed by critics and fans alike as one of extreme metal's most accomplished and ambitious works yet that ever garnered mainstream acclaim.
"Once Vital Remains prepped up for their recording sessions for 'Icons Of Evil,' the question if they would be able to top 'Dechristianize' circulated in the extreme music world immediately. They finally answer it with: 'Hell yeah and there is not enough holy water available to wash away this unholiness!!!'"
May 1 - St. Catherines, ON @ Mikado
May 2 - Toronto, ON @ Rockpile
May 3 - Ottawa, ON - Mavericks
May 4 - Sherbrooke, QC - Woodstock Bar
May 5 - Montreal, QC @ Katacombes
May 6 - Quebec City, QC @ L'Agitee
May 7 - Jonquiere, QC @ Place Nikitoutagan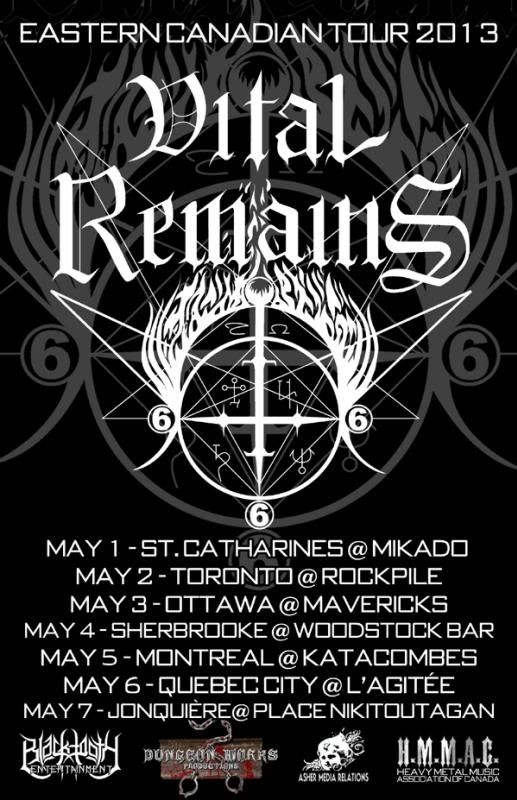 What's Next?
Please share this article if you found it interesting.
---
0 Comments on "Vital Remains Announces Canadian Shows"
Be the first to comment! Tell us what you think. (no login required)
To minimize comment spam/abuse, you cannot post comments on articles over a month old. Please check the sidebar to the right or the related band pages for recent related news articles.