Voivod Shooting New Music Video For "Target Earth"
Canadian progressive metal pioneers Voivod have begun work on a video for the title track off their Century Media debut album, "Target Earth."
The video, created by Italian filmmaker and multimedia artist, Nicola Piovesan, will recreate in 3D Motion Graphics the visions and artwork of Voivod drummer, Away (Michel Langevin). You can check out stills from the work-in-progress video below. For more video stills, visit the band's official Facebook profile here.
The "Target Earth" track listing is as follows:
1. Target Earth
2. Kluskap O'Kom
3. Empathy for the Enemy
4. Mechanical Mind
5. Warchaic
6. Resistance
7. Kaleidos
8. Corps Étranger
9. Artefact
10. Defiance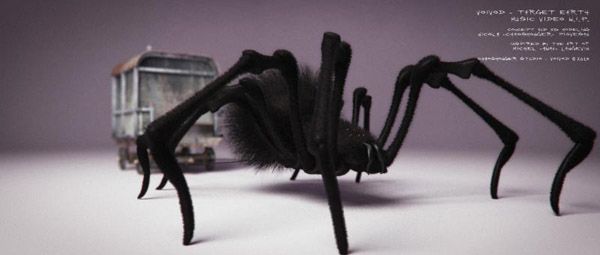 What's Next?
Please share this article if you found it interesting.
---
To minimize comment spam/abuse, you cannot post comments on articles over a month old. Please check the sidebar to the right or the related band pages for recent related news articles.