Lair Of The Minotaur Reveals New EP "Godslayer" Details
Celebrating ten years of clear-cut maliciousness through Greek mythology and unchecked riff savagery in 2013, Chicago trio Lair of the Minotaur will storm back with a new EP this Spring.
While the members of Lair of the Minotaur have been skulking around in the back-alleys of the underground over recent months, the band has been far from dormant. To commemorate a full decade of demolishing eardrums on record and on stage this year, the band will hammer its fanbase with a brand new EP for this year's Record Store Day.
Entitled "Godslayer," the new 7" release bears two new tracks, with the surge of "Godslayer" opening up, and the monolithic "The Black Heart of the Stygian Drakonas" on the B-side, both tracks mastered by Scott Hull (Pig Destroyer).
A limited edition of 300 copies will be pressed as a 7", in addition to the digital download through iTunes, Amazon MP3 and the like, and as with latest album "Evil Power," will be released on the band's own The Grind-House Records with distribution from previous label home, Southern Lord, for Record Store Day this April 20th.
The "Godslayer" cover art designed by visual artist Tom Denney can be viewed below. In conjunction with the release, Lair of the Minotaur will storm stages once again in April, starting with a free hometown Record Store Day show at Reckless Records in Chicago's Wicker Park.
4/20/2013 Reckless Records - Chicago, IL (FREE Record Store Day/Record Release Show)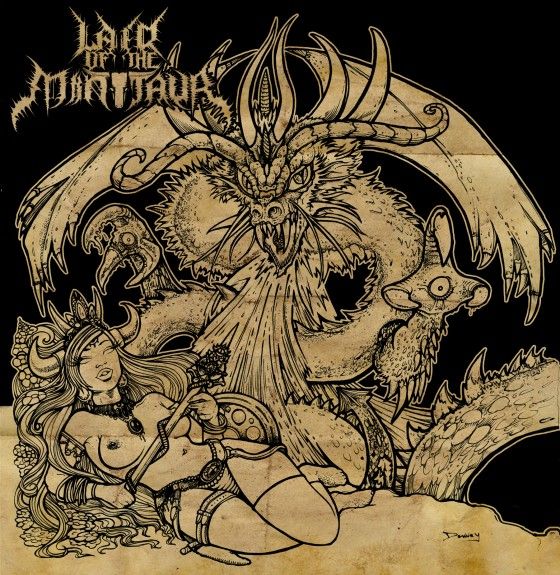 What's Next?
Please share this article if you found it interesting.
---
0 Comments on "Lair Of The Minotaur Reveals 'Godslayer' Details"
Be the first to comment! Tell us what you think. (no login required)
To minimize comment spam/abuse, you cannot post comments on articles over a month old. Please check the sidebar to the right or the related band pages for recent related news articles.