The Kennedy Veil Comments On Upcoming "Bloodletting North America" Tour Dates
Band Photo: The Kennedy Veil (?)
Sacramento, CA's modern death metal act The Kennedy Veil will be taking part in select dates for the return of Unique Leader's annual extreme metal tour, "Bloodletting North America." The Kennedy Veil will be helping to kick things off on the West Coast, opening for Gorod, Inanimate Existence, Kamikabe, and Vale of Pnath.
Drummer Gabe Seeber had the following to say about the band being added to a few dates on the upcoming tour:
"I know I speak for the rest of TKV in saying that we are extremely excited to be part of this tour with UL label mates Gorod, Kamikabe, Inanimate Existence, and our good friends in Vale of Pnath. We will be entering NB Recording in Santa Rosa, CA with producer Nick Botelho, to begin recording our upcoming debut full length, 'Trinity of Falsehood' this Spring, so be on the lookout for updates on that as well! We can't wait to really hit the road this year in support of our upcoming album, and this quick run is just the beginning of spreading the TKV name from coast to coast and anywhere else we can travel to. To all our West Coast fans... We'll see you in May!"
The tour will span from May 3rd to June 1st covering the U.S. and parts of Canada. Also appearing on select dates of the tour will be Fallujah (Unique Leader), Pyrexia (Unique Leader), Applaud the Impaler (Unique Leader), Rivers of Nihil (Metal Blade), Cognitive (Torture Music) and Archspire (Season of Mist).
5/03 - San Francisco, CA - Neck of the Woods* (w/ The Kennedy Veil)
5/04 - Los Angeles, CA - Airliner* (w/ The Kennedy Veil)
5/05 - Las Vegas, NV - Cheyenne Saloon* (w/ The Kennedy Veil)
5/06 - Denver, CO - Summit Music Hall (Moon Room)
5/07 - Albuquerque, NM - Hooligans
5/08 - Oklahoma City, OK - Conservatory
5/09 - Houston, TX - White Swan
5/10 - New Orleans, LA - TBA
5/11 - Tampa, FL - Brass Mug
5/12 - Atlanta, GA - TBA
5/13 - W. Columbia, SC - New Brooklyn Tavern
5/14 - Charlotte, NC - Casbah
5/15 - Springfield, VA - Empire
5/16 - Reading, PA - Reverb
5/17 - Cleveland, OH - TBA
5/18 - Clementon, NJ - Harper's Pub
5/19 - Brooklyn, NY - St. Vitus
5/20 - Albany NY - Bogies
5/21 - Keen, NH - Railroad Tavern
5/23 - Ottawa, ON - Mavericks
5/24 - Montréal, QC - Alize
5/25 - Québec,QC - L'Agitee
5/26 - Toronto, ON - The Rockpile
5/27 - Chicago, IL - Reggies
5/28 - St. Paul, MN - TBA
5/31 - Seattle, WA - Studio Seven
6/01 - Vancouver, BC - Astoria Pub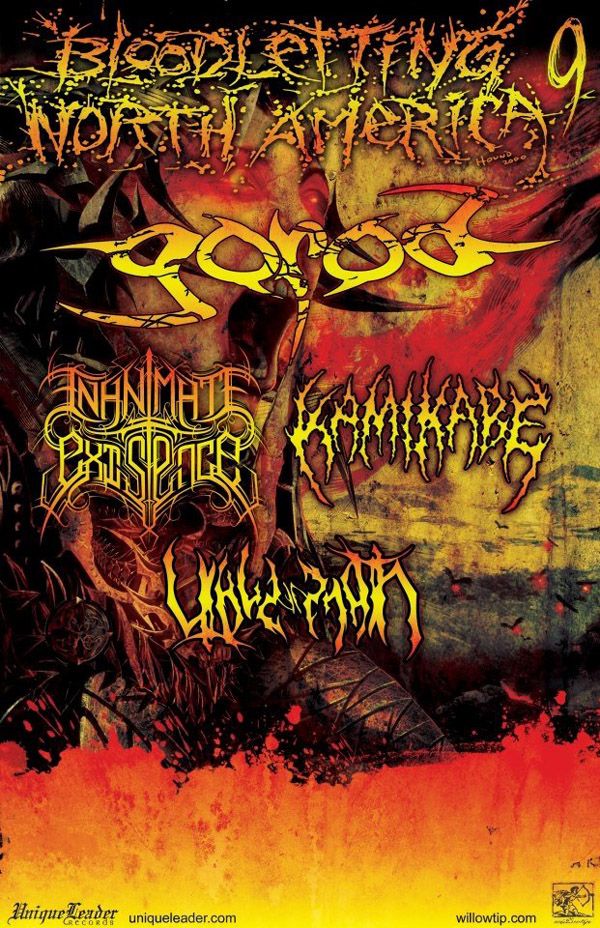 What's Next?
Please share this article if you found it interesting.
---
0 Comments on "The Kennedy Veil Comments On Upcoming Tour Dates"
Be the first to comment! Tell us what you think. (no login required)
To minimize comment spam/abuse, you cannot post comments on articles over a month old. Please check the sidebar to the right or the related band pages for recent related news articles.