Tesseract Reveals New Album "Altered State" Details
Tesseract has announced that the band's second full length album, "Altered State," will be released on May 27th, 2013 throughout Europe and May 28th, 2013 in North America via Century Media Records.
Divided into four movements: "Of Matter," "Of Mind," "Of Reality," and "Of Energy," the "Altered State" album in its purest form is about the transformations the band has gone through over the past few years. Tesseract elaborates:
"The concept behind the presentation of Altered State is very simple. It is about change, and how life is change. We have been through a very difficult period of time over the last few years. It is a miracle that the band has survived. I feel it is the ability to step back and see everything for what it is (hence the Perspective EP) that has allowed us to get on with life and try to enjoy it. Reality is change."
The track listing is as follows:
01. Of Matter - Proxy
02. Of Matter - Retrospect
03. Of Matter - Resist
04. Of Mind - Nocturne
05. Of Mind - Exile
06. Of Reality - Eclipse
07. Of Reality - Palingenisis
08. Of Reality - Calabi-Yau
09. Of Energy - Singularity
10. Of Energy - Embers
"Altered State" was produced, mixed, mastered and engineered by Tesseract guitarist Acle Kahney, assisted by bassist Amos Williams at Acle's 4D Sounds studio, and marks the first full release with new vocalist Ashe O'Hara.
The band is set to head out with longtime friends, Periphery, throughout mainland Europe and then headline dates throughout the U.K. just prior to album release. Worldwide touring will follow throughout the year.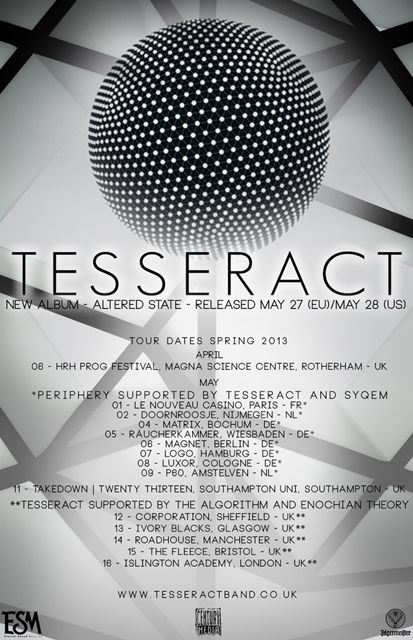 What's Next?
Please share this article if you found it interesting.
---
0 Comments on "Tesseract Reveals New Album Details"
Be the first to comment! Tell us what you think. (no login required)
To minimize comment spam/abuse, you cannot post comments on articles over a month old. Please check the sidebar to the right or the related band pages for recent related news articles.