Column
Sunday Old School: Rigor Mortis
Band Photo: Rigor Mortis (?)
Many times a band becomes well known and its musicians end up starting new musical collaborations that live off of the name of that pioneering act. The reverse was true of Texas quartet Rigor Mortis. Although fairly influential and cult in the thrash metal underground, its members went on to bigger success in other, more well-known metal acts. In the beginning, though, it was just the four of them - or better stated, three.
Rigor Mortis was the brain child of New York guitarist Mike Scaccia, drummer Harden Harrison and bassist Casey Orr. Basing themselves out of Dallas in 1983, the band had no official singer and usually had Casey on the mic. Years later, that was why Rigor Mortis normally had several instrumental tracks and started off its debut album with "Welcome to Your Funeral." Vocalist Bruce Corbitt didn't come into the picture until late 1987. He'd only been in a Black Sabbath covers band and wasn't sure of himself on the helm, but determined to prove himself. He said he wanted it badly, wanted to be a really bad mofo. Thus began the official line-up of Rigor Mortis.
Back in Texas in the early eighties there was little in the way of thrash metal, which pretty much made Rigor Mortis the elders of the scene. You had Pantera over in Arlington, but their paths didn't cross much since they were still in the glam phase with Terrence Lee on vocals. A few other bands like Agony Column, Watchtower, Absu and Dead Horse shared that early mantle with Rigor Mortis in a scene that Bruce Corbitt says was 'spread very thin.' You had to work hard to make it in Texas - you couldn't be content just playing clubs and having a dozen songs. Bruce has stated that he threw everything he had into the band and was too busy to hold a job doing so. Hustling became the way of survival for him, gambling and selling weed, so that there was ample time to practice.
All the hard work and fast thrashing of their demo got Rigor Mortis noticed by quite a few major and indie labels. It wasn't the band's conscious decision to sign to Capitol Records, it just so happens that Capitol was actually the first label to give them a bona fide offer with full creative control. A&R rep Rachel Matthews, it turns out, was a huge fan of underground metal and was instrumental in signing the band. Not surprisingly, though, Capitol failed to promote them and the debut album almost became a minor footnote. Although recorded in a crappy studio, "Rigor Mortis" was warp-speed fast for the time. The album was faster than the band's demo, much of which can be attributed to the fretwork of metal's fastest guitarist Mike Scaccia. When Bruce had met him at the age of 16, he was prodigious even then. Mike instinctively formed his own picking technique on the guitar and ran with it. Some musicians are just born to play.
The first week after the release of the album was eventful for the band, for all the wrong reasons. Bruce and Harden got into a verbal altercation between longhairs and skinheads at their record release party and ended up getting arrested and spending the night in jail. There were good times, too. The band got to go to the premiere of The Decline of Western Civilization Part 2: The Metal Years, since their song "Foaming at the Mouth" was one of the ten songs featured on the soundtrack. It turns out that filmmaker Penelope Spheeris, when making this sequel to the classic punk movie/soundtrack, wanted the second part to focus on hair metal bands. Rachel from Capitol insisted that it should have underground metal on it, thus resulting in bands like Motorhead and Rigor Mortis appearing alongside acts like Faster Pussycat. "Foaming at the Mouth" was an unreleased track like the rest of the compilation, but it did get put on the reissue of the first album.
By the following year, Rigor Mortis had demanded to either record or be released from Capitol. Rachel had left the label and with it went the band's supportive system. At the time Capitol was forming a deal with Metal Blade Records and decided to take the cheap way out and let Metal Blade release the "Freaks" EP. Technically, it was still a Capitol release. The "Freaks" release is still one of the hardest to track down, even harder than finding the debut album on CD (a new technology back then). Casey Orr had a simple remedy years later. He'd ask the label if they had the rights to a specific album or if it was their 'property,' like he asked Brian Slagel about "Freaks," and if they said 'Uh, I don't know' - he'd release it himself via his website. With the EP came a personnel change. Bruce Corbitt is quite frank when he says he didn't leave Rigor Mortis - he was fired. The other members wanted a frontman who sang and played rhythm guitar too, so they eased him out and replaced him with Doyle Bright. Looking back, Casey Orr wonders why they wanted someone to 'keep up' with Mike Scaccia. Good luck on that one.
Doyle Bright also appeared on the band's third and last release on Triple X Records, "Rigor Mortis vs The Earth," in 1991. Bruce admits he had trouble wishing him well and couldn't bring himself to listen to the band and see them live after his ouster. These days, Bruce and Doyle are friends and he respects him as a musician and realizes it wasn't his fault. Curiously enough, Phil Anselmo was the first person that Bruce spoke with on the phone after getting fired. Darrell Abbott also chimed in about him being an 'irreplaceable' element of Rigor Mortis. "Rigor Mortis vs The Earth" ended up being the end of that first thrashing chapter of the band, for Mike got the offer to join Ministry. The other members knew he had to take it, wished him well, and dissolved the group.
There are all sorts of stories as to how Mike Scaccia came to know Al Jourgensen. Dave Ogilvie, brother of Skinny Puppy's Nivek Ogre, produced the first Rigor Mortis album and reportedly sent a tape of it to Al. Jourgensen then allegedly scrapped the direction of his recording of "The Land of Rape and Honey" for a faster, guitar-centric sound. Ministry, if you remember, started out new wave and not in the metallic vein they're known for. The more probable story of the meeting is that Rachel Matthews of Capitol, a big fan of Ministry, invited Al to see Rigor Mortis when they were touring with Death Angel. When Mike took Al's offer, he became a staple in all of his offshoots as well - appearing in the Lard and RevCo releases.
Casey Orr jokes when he reminisces about Al hiring him as a bass tech for Ministry. He also did seven live shows for Paul Barker when his wife was in labor. He says that Al felt guilty for breaking up Rigor Mortis, so he hired him. After this stint, Casey - in need of a band - auditioned for Lee Ving's reformed Fear. He was so sure he got the gig that he turned down an offer from Tommy Victor of Prong. Lee ended up using another group of musicians, leaving Casey out in the cold. He ended up with the good deal, though. During this time, Gwar called him. The catch was that he had to pay his own way up to Richmond to audition. When he told them he didn't have the funds, luckily Dave Brockie flew him out. Casey Orr then became the second version of Beefcake The Mighty - the bass playing one. He now came from Planet Cholesterol.
After the dissolution of Rigor Mortis, Harden Harrison hooked up with plenty of interesting bands himself. He's been active with the Dallas band Mitra - the most bizarre combination of stoner, death metal and country that only Texas could produce. He's also been a fixture as the drummer in Lubbock juggernaut REO Speedealer. That band now calls itself Speedealer after all the grief that they got from Kevin Cronin's management. Doyle Bright also found a home with Hallow's Eve afterwards, and now has his own band. Doyle has a new track titled "Food of the Gods," whose demo version is streaming over on Facebook. Just like his Rigor Mortis days, it's loud and downtuned thrash. During this time, Bruce Corbitt hooked up with a couple of members from noted Texas band Gammacide to form the Texas Metal Alliance. A few years ago, the band officially changed its name to Warbeast and is now signed to Phil Anselmo's label Housecore Records. Warbeast has been lighting up the airwaves on Liquid Metal with its single "Birth of a Psycho." In fact, Warbeast and Phil are doing a four-song split, "War of the Gargantuas," together - dedicated to the memory of Mike Scaccia. In fact, the entire Warbeast/Down tour will be dedicated to him.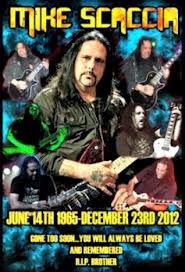 Yes, the memory of Mike Scaccia. Two days before this past Christmas will be indelibly etched in the minds of the metal community for quite a time to come. What makes it even more ironic besides tragic is the fact that Rigor Mortis had reunited and were doing a show. Since as far back as 1993, Bruce had toyed with the idea of reuniting the band but serious talks had only come to pass in 2005. Mike was back from the road after the Ministry "Animositisomina" tour and before rejoining again in 2006 for "Relapse," and Bruce was looking at a MySpace tribute page that Casey had made for Rigor Mortis. Bruce sent Casey an email, realizing that petty grudges were so silly after so many years had transpired. Corbitt knew that after Dimebag's passing that he and Phil had not been on good terms and that would always haunt him. Mike Scaccia, in the ultimate irony, had talked to Darrell in 2004 during his Damageplan tour about collaborating on an album together. Two days later Darrell was dead.
Bruce offered to do a few tunes with Rigor Mortis, which turned into a full-fledged reunion. In 2008 came the lone August date in Texas for the Ozzfest tour, along with the 2009 appearance at Germany's Keep It True festival - where they shared the bill with other vintage acts such as Abbatoir. At first Rigor Mortis was going to enter the studio with Al, but ended up recruiting a producer they had worked with before, the man who mastered their last album, Kerry Crafton. During the year of 2012, most of the tracks for Rigor Mortis' comeback album "Slaves to the Graves" had been laid down and mastered. The band had been playing several shows all over the Dallas area and booked another one for Bruce's 50th birthday celebration at the Rail Club. During the set, Mike complained about the strobe lights making him feel dizzy before passing out onstage. When they rushed him to the hospital, he passed a half hour later. While first thought to be a seizure brought on by the lights, Mike had no history of epilepsy and the official cause of death was ruled as coronary failure. He was only 47 years old.
The metal world lost one of its most illustrious yet low key guitarists. I don't understand death, but can only rationalize it by knowing it is a process we all have to go through. It does my heart well to know that all of Rigor Mortis' members were on great speaking terms and had come full-circle in reuniting before Mike's passing. Bruce has started a paypal account for Mike's wife Jenny and daughter Sarah, and both he and Sarah Scaccia are writing journals - Bruce's about his metal life and Sarah's a recollection of photos about her dad. The new Warbeast split will feature a picture of Mike Scaccia on one side and Bruce Corbitt's fallen brother Jeff on the opposite side. The best way to remember one's fallen brothers is to immortalize them through the medium of music.
Rigor Mortis - "Vampire"
Rigor Mortis - "Demons"
Rigor Mortis - "Foaming at the Mouth"
Rigor Mortis - "Freaks"
Rigor Mortis - "Dead Fish"
Rigor Mortis - "Mummified"
What's Next?
Please share this article if you found it interesting.
---
To minimize comment spam/abuse, you cannot post comments on articles over a month old. Please check the sidebar to the right or the related band pages for recent related news articles.