Necrocurse Streaming "Rotten In The Dark"
Swedish morbid death metal rebels Necrocurse have titled their upcoming debut full-length effort "Grip of the Dead." The vinyl version of this eleven-song album will include a re-recorded version of the track "Souls Of A Thousand Funerals," from the "Shape of Death" MCD, as an additional bonus track
"Grip of the Dead" is scheduled for an early 2013 release on Pulverised Records. The vinyl version for "Grip of the Dead" will be a joint collaboration between Blood Harvest Records and To The Death Records. The track "Rotten In The Dark" is now streaming at the official Pulverised SoundCloud page, or below after the tracklisting and cover art.
1) Preludium Of Devastation
2) Necrocurse
3) Rotten In The Dark
4) The Devil Cobra
5) Ripping Darkness (The Destroyer)
6) Death Metal Rebels
7) Morbid Maniacs
8) Speed To The Grave
9) Grip Of The Dead
10) Coffin Breakers
11) Infernal Rebellion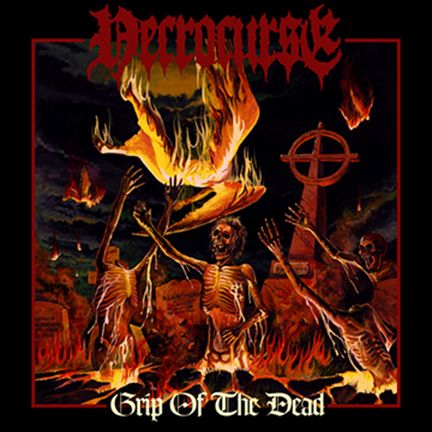 What's Next?
Please share this article if you found it interesting.
---
To minimize comment spam/abuse, you cannot post comments on articles over a month old. Please check the sidebar to the right or the related band pages for recent related news articles.