Saxon Announces International Release For "Heavy Metal Thunder - The Movie"
Saxon will be releasing the new album "Sacrifice" this coming February, and now the band has also posted the following announcement about an international release for the "Heavy Metal Thunder" movie:
"The silver eagle has finally landed for audiences worldwide! After enjoying a limited 'Fan Club Only' UK release, 'Heavy Metal Thunder – The Movie,' Saxon's wonderfully unfiltered and intimate account of their ascent to the upper echelons of heavy metal, will finally enjoy an international release this December.
"Rivetingly honest, and including the frank memories of every musician who has played in the band, 'Heavy Metal Thunder – The Movie' pieces together the earliest incarnations of Saxon, from frontman Biff Byford's teenage years in the coalmines of 'Yorkshire' and 'Son Of A Bitch' (the first incarnation of Saxon) all the way through to top 10 hits and world tours. Nothing is forsaken and nothing skipped. 'Heavy Metal Thunder – The Movie' will entertain, engage and charm fans and non-fans alike. That's a truth as honest as the film itself…
"The exclusive fan packages contain not only the Blu-Ray or 2 Disc-DVD, but also a Saxon 'Heavy Metal Thunder - The Movie' T-Shirt! Order now online at UDR Shop or Digital Stores."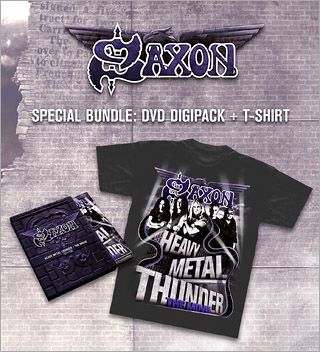 What's Next?
Please share this article if you found it interesting.
---
To minimize comment spam/abuse, you cannot post comments on articles over a month old. Please check the sidebar to the right or the related band pages for recent related news articles.