Humanity Delete Finally Releasing Debut Album
Extreme metal's most prolific artist Rogga Johansson (Paganizer, Ribspreader, Revolting, Demiurg, Bone Gnawer, etc) has resurrected Humanity Delete, the project he formed in 2003. He has completed the debut album "Never Ending Nightmares," which is targeted for a December 4th release on Dead Beat Media.
The cover artwork was done by Adam Geyer, with inner artwork also by Adam Geyer, as well as Ironworx Gravefix and Dzul Skam. "Never Ending Nightmares" was recorded by Rogga Johansson and mixed/mastered by Ronnie Björnström. Check out the tracklisting and cover art below, along with an upload of the track "The Eight Fire Narakas" below. Another track, the lyric upload of "The Jenglot," is streaming over at YouTube.

1.Never Ending Nightmares
2.The Eight Ice Narakas
3.Black Oil Defiler (Orang Minyak)
4.Necromantic Sorcery
5.The Jenglot
6.Dismal Corridors
7.Resurrection Rites
8.Retribution of the Polong
9.Pontianak Part I
10.The Eight Fire Narakas
11.Frozen Apparition
12.Pontianak Part II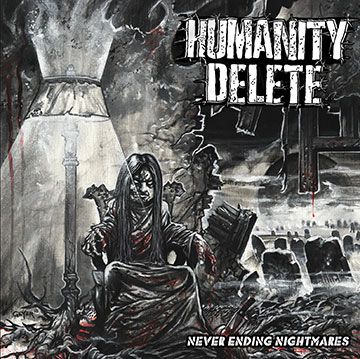 What's Next?
Please share this article if you found it interesting.
---
To minimize comment spam/abuse, you cannot post comments on articles over a month old. Please check the sidebar to the right or the related band pages for recent related news articles.