Jerry Gaskill And Wife Displaced From Home After Hurricane Sandy
Ed Frost has organized a Give Forward page to help raise money for King's X drummer Jerry Gaskill and his wife Julie. New Jersey native Jerry, who lives in Seaside Heights, suffered damages to his home during Hurricane Sandy. He and his wife are now displaced, in a cruel twist of fate after he had suffered a heart attack in February. Head over to that Give Forward page to learn more. Ed and Michelle Frost wrote this on the page:
The friends and fans of Jerry Gaskill of King's X and solo success, are uniting to to raise money to help with the devastating losses he and his wife Julie suffered during Hurricane Sandy. Jerry and Julie lost almost every material possession they owned and are displaced from their home.

I spoke with Jerry and he and Julie are ok, and very optimistic of the future, despite losing every material possession to this dreadful storm. It's been one helluva journey for him this year-cheating death, marrying his soul mate, a successful tour with Kansas, the announcement of a new solo project kicking off next month, and now this....

If you know Jerry, you already know that is it not in his DNA to ask for help....per Jerry's words "It's gonna be Alright"....... For me, Jerry has helped me in so many different way that past 3 years, that there is no real way that I could repay him. I'm going to do what I can, and hope you will join in.
If you would like to help as well, my wife and I will match the first $1,000 that can be raised. Any gift you can give will be treated as a gift, and is not tax deductible.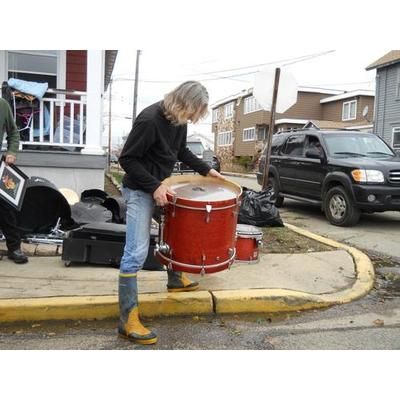 The water level reached over four feet in Jerry and Julie Gaskill's house
What's Next?
Please share this article if you found it interesting.
---
0 Comments on "Give Forward Campaign Started For Jerry Gaskill"
Be the first to comment! Tell us what you think. (no login required)
To minimize comment spam/abuse, you cannot post comments on articles over a month old. Please check the sidebar to the right or the related band pages for recent related news articles.