Eugenic Death Reveals New Album "Crimes Against Humanity" Details
Heaven and Hell Records is pleased to announce the upcoming release of "Crimes Against Humanity" from North Carolina thrashers Eugenic Death on September 18th. The old school thrash band featuring Jonathan McCanless (guitar), Keith Davis (vocals), Shane Lucas (bass), and Ian Pasquini (drums) previously released the 2011 demo "The Devil Waits," and has now teamed up with Iced Earth guitarist Troy Steel for a guest appearance on the new track "Epitaph."
The band's publicist also commented, "With a sound akin to Onslaught, Demolition Hammer, and the Bay Area scene, Eugenic Death stays true to their roots with determination to make it faster and more aggressive. The goal of this band is to attack your senses with unrelenting force."
Check out a promo video for "Crimes Against Humanity" and then pre-order the album at a special introductory price at this location. The album's track listing is:
1. Crimes Against Humanity
2. Indicative Deity
3. Medication Time
4. The Devil Waits
5. Plagued by Ignorance
6. Epitaph
7. The Practice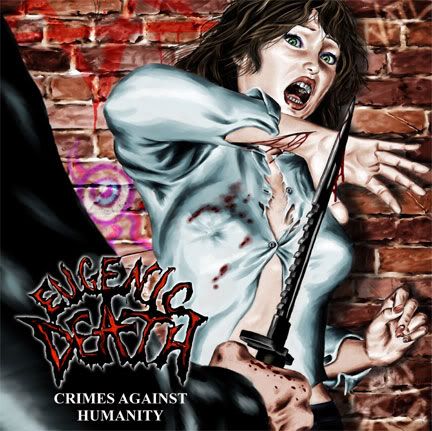 What's Next?
Please share this article if you found it interesting.
---
0 Comments on "Eugenic Death Reveals New Album Details"
Be the first to comment! Tell us what you think. (no login required)
To minimize comment spam/abuse, you cannot post comments on articles over a month old. Please check the sidebar to the right or the related band pages for recent related news articles.