The New Dominion Working With Neils Adams On New Material
Dutch death metal band The New Dominion has put the following announcement on its Facebook wall regarding the guest vocals of Neils Adams in its ranks, as they gear up to put out their full-length "Procreating the Undivine." Neils put out three albums with Prostitute Disfigurement and has done an EP with Nox, as well as contributing to Centurian from 2011 on. Here is the announcement:
Niels Adams (Prostitute Disfigurement) guest vocalist on forthcoming album! We really are fucking psyched that we can announce the appearance of guest vocalist Niels Adams (Prostitute Disfigurement and Centurian/NOX), on our upcoming album "Procreating the Undivine". Niels can definitely be considered to be master of the most obscure and brutal death metal vocals. On the track "The Eclectic Splitting of Tongues," he will only do what he does best; unleash the most relentless of oral storms upon mankind. However the musical concept and setting differ a lot from what he is used to, the results are simply mind-blowing in terms of aggression and ferocity.
This alliance will make the already epic track even more interesting and challenging for the listener and it will put this ear grinding album on an even higher level. As Niels has to say about this cooperation himself: "It was definitely a great experience to work with this guys. Something completely different but they know what they want and they for sure know their shit. They put great effort in every detail, they are well prepared and they won't stop untill perfection has been achieved. This album is going to be insane"
More details concerning the upcoming release will be revealed soon, along with new material when its posted. The New Dominion have the 2007 EP "...And Black Gleams the Eye" and the 2009
full-length "...And Kindling Deadly Slumber" to its credit. The New Dominion have posted the album cover artwork for "Procreating the Undivine" on its website, which was done by Niklas Sundin of Cabin Fever Media.
Also on the website you can see the composite pictures the band took of each member, which will be on the CD. The pictures were recently shot by Dennis Wassenburg as part of an integrated concept for the artwork of the upcoming album, and were made possible by Dorry Timmermans, who was responsable for all make-up art required and executed on the band. Check out older material from The New Dominion over on MySpace while they finish up the new one.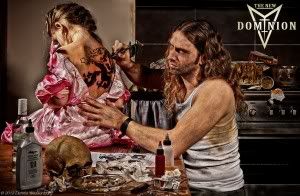 What's Next?
Please share this article if you found it interesting.
---
0 Comments on "The New Dominion Recruits Guest Vocalist"
Be the first to comment! Tell us what you think. (no login required)
To minimize comment spam/abuse, you cannot post comments on articles over a month old. Please check the sidebar to the right or the related band pages for recent related news articles.