The Skull Performing at Dark Star Records 15th Anniversary Bash
The Skull, the new band formed by two original members of Trouble (vocalist Eric Wagner and drummer Jeff "Oly" Olson, alongside the band's longtime bassist Ron Holzner) will play its debut show with Sacred Dawn guitarists Lothar Keller and Michael Carpenter. The Skull will headline the Dark Star Records' "15 Year Anniversary Bash" set to take place at the Tilted Kilt in Elgin, Illinois on Friday, June 15th.
The Skull's set list will consist 100% of music from Trouble, with emphasis on material from the albums "Psalm 9" and "The Skull". Visit The Skull's website for additional information. A U.S east coast tour will be announced next week. Also appearing at the event will be the cast of "Jezebeth", the 2011 horror film in which Eric Wagner receives a lap dance in a cameo appearance. The film was written, directed, and produced by Damien Dante of Satania 6 Films and co-produced by Dark Star Records President Jeffrey A. Swanson.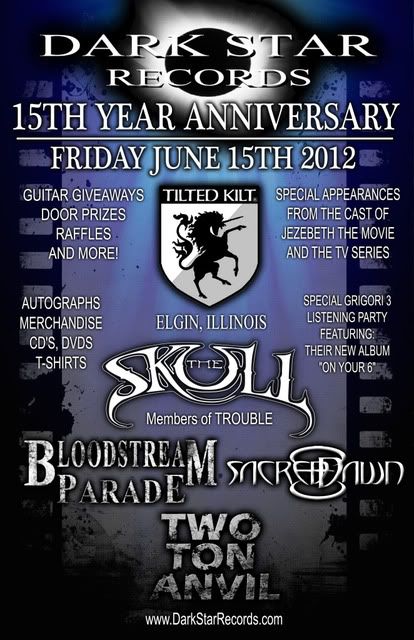 What's Next?
Please share this article if you found it interesting.
---
To minimize comment spam/abuse, you cannot post comments on articles over a month old. Please check the sidebar to the right or the related band pages for recent related news articles.