Extremefest 2012 Confirmed For Three Days In July
Band Photo: Cannibal Corpse (?)
Extremefest 2012 will take place in Germany, Austria and Switzerland on July 5th through the 7th in the three cities of Hunxe, Salzburg and Pratteln. It will feature over seventy bands on two stages, with acts still confirming. Head on over to the Extremefest website and Facebook events page for more information. The event is being presented by Metal Hammer, Noizeletter, Legacy, Musix, Metalnews.de, Metal.de, Blast Corpse Promotion (DE) and Catapult Promotion (AT). Check out the list of confirmed bands below, which includes the first European performance of Guttural Secrete.
5. July 2012 – 7. July 2012 DE – Hünxe, ExtremeFest Germany
5. July 2012 – 7. July 2012 AT – Salzburg, ExtremeFest Austria
5. July 2012 – 7. July 2012 CH – Pratteln, ExtremeFest Switzerland
Cannibal Corpse
Exodus
Suicide Silence
Belphegor *the return of BELPHEGOR*
Marduk
Asphyx
Nasum
Suffocation
Eisregen
All Shall Perish
Carnifex
Arkona
Origin
Suicidal Angels
Dornenreich – exclusive Metal-Set!
Deströyer 666
Cephalic Carnage
Desaster (Germany only)
Milking The Goatmachine
Helrunar
Wormed
Trollfest
Inquisition
Excrementory Grindfuckers
Aborted
Darkened Nocturn Slaughtercult
Nexus Inferis
Internal Suffering *comeback shows*
Severe Torture
Hellish Crossfire
Condemned
Eis
Gama Bomb
Helheim
Disavowed
Farsot
Riger
Malignancy
Hellsaw
Forgotten Tomb *AT & DE only*
Rompeprop
Benighted
Agrypnie
Ultrawurscht *AT only*
Ingested
Wormrot
Rectal Smegma
Dawn of Disease
Spasm
Hour of Penance
Guttural Secrete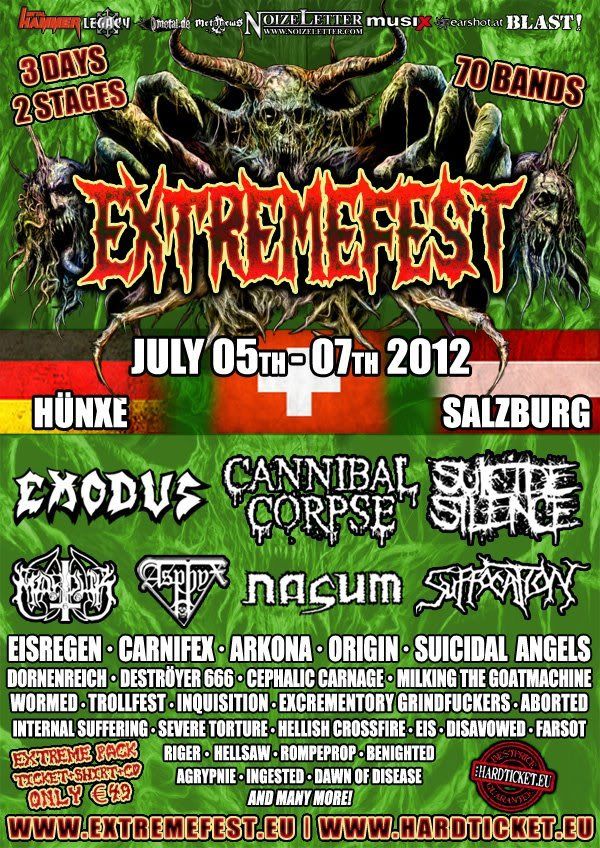 What's Next?
Please share this article if you found it interesting.
---
0 Comments on "Extremefest 2012 Confirmed For July"
Be the first to comment! Tell us what you think. (no login required)
To minimize comment spam/abuse, you cannot post comments on articles over a month old. Please check the sidebar to the right or the related band pages for recent related news articles.