Huinca Artist Claudio Bergamin Explains His Vision
Leading creator of visual art, Claudio Bergamin, explains the concept behind the cover of the latest album from Chilean band Huinca called "Sic Semper Tyrannis". The artist has worked in the past with leading magazines and international bands such as Halford "Live At Saitama Super Arena," Metal Hammer t-shirt design, and many more. You can fully appreciate his interesting take on surrealism by going to his website. In his words, this is what Claudio Bergamin has to say about the new Huinca cover:
"Colonization and cultural contamination are two subjects (or maybe just one) that I have always been interested in. Nothing good could result when a developed society invades (either in a friendly or unfriendly manner) a more primitive culture. There is plenty of examples in history for this, but this image deals specifically with the colonization of South America. It was commissioned by Chilean band Huinca (term for the non-aborigine in Mapuche language) as its cover art.
The concept is a mix of a little bit of mythology with modern politics... it blends the ancient battle of the common man against an impossible adversary (like David and Goliath), which in this case is represented by a massive Lovecraftian creature. In its back, it carries what I call the "unholy trinity" of powers... war (missiles), religion (a cathedral) and economics (oil plants).
Our heroes are representatives of the three main aboriginal cultures of the lower part of South America: Mapuche, Rapa-Nui and Inca (although Incas are mainly from Peru). All three against an all-powerful and evil adversary... will they succeed???"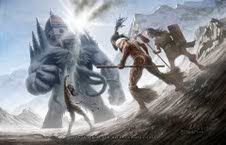 What's Next?
Please share this article if you found it interesting.
---
0 Comments on "Huinca Reveals Artwork On Upcoming Album"
Be the first to comment! Tell us what you think. (no login required)
To minimize comment spam/abuse, you cannot post comments on articles over a month old. Please check the sidebar to the right or the related band pages for recent related news articles.