Inactive
Procession Signs To Century Media For Next Album
Chilean band Procession, currently working on its new album "To Reap Heavens Apart" in 2013, made the following statement regarding its signing to Century Media Records:
We're glad to announce that Procession have signed to Century Media for the worldwide release and distribution of our upcoming album "To Reap Heavens Apart". We are thankful to Steffen and High Roller Records for what he did for us in the past, but now we feel that for us as a band the time has come to take the next step forward and leave the narrow confines of the underground scene. We are sure that Century Media has the firepower to take us to the next level.
Century Media Records made the following announcement:
"We are more than happy that Chile's finest Procession have decided to work with us for the release of their next album. After having heard their new material, we are putting high hopes in the band. Not only are the songs some of the best pagan doom metal we've heard in the past two years, but also the guys in the band themselves are very good-looking, intelligent, sophisticated and a pleasure to work with."
That upcoming album will be available on CD, vinyl and tape. The special edition will be featured as a noble digibook, strictly limited to 100 copies. It will contain the album in two versions, English and Mapudungún lyrics, a half liter of Pipeño Wine and will feature three bonus tracks - "Las Moralejas" (a Don Froilan cover) and "White Rider" (originally done by Skrewdriver).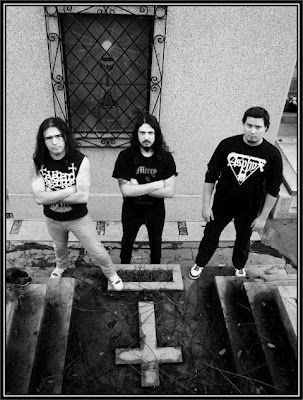 What's Next?
Please share this article if you found it interesting.
---
0 Comments on "Procession Signs To Century Media Records"
Be the first to comment! Tell us what you think. (no login required)
To minimize comment spam/abuse, you cannot post comments on articles over a month old. Please check the sidebar to the right or the related band pages for recent related news articles.