The Melvins Streaming New Songs From EP
The Melvins has a lot planned this month. First up, on March 13th you will be able to download "The Bulls & The Bees" five-song EP from Facebook. The EP release will be followed by a 21-date U.S. trek with Unsane that kicks off on Apr. 11th at The Blank Club in San Jose, Calif. and wraps up exactly a month later on May 11th at The Galaxy Concert Theatre in Santa Ana, Calif. You'll be able to pick up a free CD at one of the shows, plus AmRep will also likely be releasing it at a later date.
Additionally, the April 13th Los Angeles show at the Troubadour will be taped for a future airing on an episode of "Last Call With Carson Daly". King Buzzo described the effort as "amazing in its noisy calm intensity."The second track, "We Are Doomed," is available for streaming below, plus you can listen to "The War On Wisdom" at this location.
Ipecac has also announced the forthcoming Melvins-Lite album "Freak Puke" scheduled to be released on June 5th. Melvins-Lite is Buzz and Dale along with Trevor Dunn. (This collaboration does not spell the demise of the Melvins/Big Biz alliance). There will be a Melvins-Lite tour later on this year. Check out the tracklisting for "The Bulls & The Bees" EP below, and the tracklisting and cover art for "Freak Puke" after the jump.
"The Bulls & The Bees" Track Listing:
1.The War on Wisdom
2.We Are Doomed
3.Friends Before Larry
4.A Really Long Wait
5.National Hamster
"Freak Puke" Track Listing:
1.Mr. Rip Off
2. Inner Ear Rupture
3.Baby, Won't You Weird Me Out
4.Worm Farm Walt
5.A Growing Disgust
6.Leon vs. The Revolution
7.Holy Barbarians
8.Freak Puke
9.Let Me Roll It
10.Tommy Goes Berserk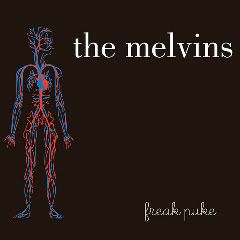 What's Next?
Please share this article if you found it interesting.
---
To minimize comment spam/abuse, you cannot post comments on articles over a month old. Please check the sidebar to the right or the related band pages for recent related news articles.