Column
Sunday Old School: Blood Duster
Plenty of old school metal bands come from Australia. Immediately coming to mind are Destroyer 666 and Mortal Sin...but don't forget about Blood Duster. Nobody, but nobody is like Blood Duster. They have made a career out of taking sounds and cliches from other genres and turning them on their asses into supremely heavy grinding rock. This year marks 21 years of existence for these crazy Aussies who started pissing in our ears in 1991 when they formed the band, claiming to have met at a peep show. Very underground and cult, you may have missed them if you blinked or were looking in the wrong direction back in the 90's.
But, do not underestimate the impact they had on the scene with their irreverence and complete humorous take on the grindcore genre. In fact, Blood Duster's style of grinding death rock with slabs of retro grooves shows how they are the sum of their parts. Many of the band members came from all kinds of metal bands like Hecatomb and Pod People, so their music is influenced by almost anything. The difference is, through all the chaotic sounds Blood Duster incorporated they always did it well - and did it best.
Blood Duster allegedly chose it's name from the John Zorn composition. They mentioned looking over some other names like Anal Dreadlock, which wouldn't go over too well. They first hit the music scene with their late '91 demo EP "Menstrual Soup." This release was straight up grindcore and a decent effort considering the band was barely finding itself and it's line-up was very shaky, half the members like vocalist Anthony Barry being dismissed afterwards. The one original member, Jason PC Fuller, has remained today from this line-up.
The inclusion of Tony "ToneBone" Forde on vocals cemented the core of the band and set them on course, even though the rest of the band would undergo numerous changes within it's ranks throughout the years. By the time Blood Duster released their "Fisting the Dead" EP in '93, a couple more members exited to form the black metal band Abyssic Hate. This EP was one of many Blood Duster discs to get re-released years later, although it's 25 tracks of grindcore did get repackaged with the 1996 full-length album "Yeest." (An album that possibly got it's title as homage to fellow Melbourne band Christbait's '93 release "Yeast").
"Yeest" was an important milestone for Blood Duster. The group realized that just playing straight up grindcore gets redundant, and was already starting to get done to death by everyone else. So why not take that dry humor they had started to display and add all kinds of metal elements to it, like metal chop suey? Recruiting guitarist Fin Alman and drummer Matt Rizzo, they took grinding death rock to new levels by adding a ghetto sound to it. "Albert" kicked it off with a homeboy intro saying "damn why don't you pump this sh!t up so you can fvck with my eardrums" before blasting the speakers with shredding grind rock.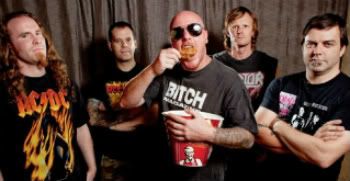 As they toured with Brutal Truth in support of this record, so marked the beginning of Blood Duster's bastardization of music genres. In a similar style to AxCx, they wrote one minute tracks with ridiculous song titles that were "unmetal," and got away with it because of their deadpan humor. They also started a pattern of stringing together all the words in a song to form one giant title, like a bunch of bands are doing nowadays. Also spawned from this release were "Grossman the Meatman" and the concert favorite "Kill Kill Kill."
Evan Heriot replaced Rizzo in 1998's opus "Str8 Outta Northcote," the most bizarre combination of ghetto, grind and retro rock one will ever see. Obviously, the title is a take on the N.W.A. classic, but even funnier was the inner gatefold of the CD. It's picture has an uncanny similarity to Kyuss' "Welcome to Sky Valley" cover, except that on the sign it says "Springvale 6 Northcote 6 Compton 6." Northcote is a suburb that is just north of downtown Melbourne, where the band has lived on and off. They even ended one of the tracks on the album just like "Supa Scoopa" from that Kyuss album. There are so many sounds on this disc, which isn't far fetched considering all the influences these musicians come from ranging from doom to death. On "Chop Chop," the Deep Purple-style outro is done on Hammond B3 organ played by Fin Alman's mother Marlana of all people. Blood Duster threw in sound bites from porno movies in some songs like "Derek 2,"and poked fun at trends in "Metal as Fvck."
When Alman quit in 2000, the group abandoned plans to release live material from their two tours with Brutal Truth, instead concentrating on putting out new material with the new line-up. The new one, "Cunt," was unleashed in 2001 after the usual controversy. Relapse put it's foot down when they saw the original cover artwork, done by Wes Benscoter, which showed a decapitated Fred Durst. The label didn't want to get sued, so Blood Duster changed it to a couple of different scenarios. On one, the cover bore a striking resemblance to the Ween record "Chocolate and Cheese" (in which they changed the woman's belt to a studded one and put a large CVNT tattoo on her midsection) and on the other was simply a cartoon image of the band with the four-letter title nice and small. But Blood Duster got the last laugh and took their intended swipe at Limp Bizkit and all the garbage nu-metal and corny rap out there.
Besides the songs "A Track Suit is Not Appropriate Metal Apparel" and "Don't Call Me Homeboy 'Ya Cunt," they put out that classic video "Porn Store Stiffi." In this one and a half minute clip, Tone Bone is dressed head to toe ghetto from his Adidas to his Blood Duster knuckle rings and hoodie. He then flashes gang signs while a couple of guys come out in the background with cardboard signs saying "Fred Can't Rap" and "Fred Gets Me Stiff." Jason PC is playing the bass over a pentagram scrying symbol while the drummer is kicking it with pink bunny slippers, uggs and roller skates. Blood Duster are funny and don't give a damn. Another great track from this album is "The Corpse Song," which became popular on YouTube after someone uploaded a fan video of the song to footage from the porno flick "Zombie Strippers."
Touring with the Dwarves after this album, Blood Duster then put out the "Drink, Fight, Fuck" EP in 2002. The track "66.6FMONYOURRADIODIAL" was actually used on an Australian photocopy paper commercial. Later in the year, guitarist Nixon was replaced with Belt Thrower (Beltsy) from the Melbourne band Mindsnare. Nixon's guitar contributions were featured on much of the next album, though. When Blood Duster released it's next album in 2003, it was eponymous since any name after "Cunt" wouldn't be shocking enough.
They thought about other titles, such as "For Those About to Fuck," but that ended up becoming the first track. Adding to that AC/DC reference, the guests on that record were none other than the original AC/DC singer Dave Evans, Jay Dunne from 28 Days and all three members of the Australian punk band The Spazzys. More controversy came over some of the oral sex artwork inside, but what do you expect - it's Blood Duster. Two singles were spawned, "IWannaDoItWithADonna" and "Six Six Sixteen" (complete with a pledge of allegiance intro). The next couple of years were spent touring with the Dwarves and Pungent Stench respectively, while the material from that live Brutal Truth tour was finally released on 2005's "The Shape of Death to Come." They also put out a limited 500 copy live release, "Kill Kill Kill" in 2006.
By now Blood Duster were feeling a mild wave of success and staying power - to a degree. Beltsy got a sponsored Cole Clark guitar with the "Cunt" logo emblazoned on it while co-guitarist M-Lo (Matty Lowpantz) and the rest of the band were wearing Black Fry's sunglasses calling themselves "corporate whores." Ha! They'd never sell out, though. Jason PC once said that bands that act like rock stars should be pissed on. He prefers playing the underground, and never wanted to end up a career musician, because career music is boring.
In 2007, Blood Duster released it's fifth major release, the triple CD "Lyden Na." (It almost sounds like Lighten Up if you say it quickly, but actually stands for "the now sound" in Norwegian). This three-CD release consisted of one grindcore disc, one death metal disc and one long 21 minute stoner track "SlowAndLongInA" on the third disc - which could be downloaded by entering "HippieKillTeam" on the band's website. Later on, Jason would wonder why people would never request the long stoner drone track in concert. He echoed many bands' sentiments by saying how fans will piss you off with their redundancy, always requesting "Northcote" or "Drink Fight Fuck (covered recently by Southern Drinkstruction)."
"Lyden Na" covered alot of territory, incorporating Darren Hayes of Savage Garden and 70's balladeer Dave Cotton. They even did a Craig Westwood version of "The Night They Burned 'Ol Emo Down." During this time, Blood Duster welcomed it's newest member - Dave Haley of Tasmanian band Psycroptic (who is actually still in Psycroptic with his brother). Dave is the quiet one in the band now, or as the band says "the whipping boy." He lights up when he's drunk, the other members have said in a recent interview. They were now approaching twenty years and in the words of Jason - "in a unique position to burn and build relationships and not give a fuck while telling everyone to fuck off."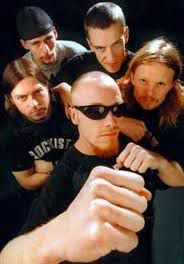 So they continued doing what they were doing to the hilt. Loud fast grind rock riffs with Tone Bone's vocals, compared by many to the Cookie Monster. Besides the groove monsters "Rock and Roll Jihad" and "Broke Ass Bitch," Blood Duster launched it's second official video for the track "Piss Stomper." In this video, Tony wears more bling than Jay-Z in the form of a large upside down cross on a chain. It's a couple of minutes of sinister looking hooded monks pissing in a puddle and the band jumping in it. Even the goat bangs it's head in the electronic loop of feedback at the end of the song.
They were now in their prime and even created their own event, Bastard Fest, in Australia to usher in and give a voice to all kinds of underground acts in the area. Blood Duster says that the fest has been getting up to 600 people a gig, too. They have been playing tons of shows all around Melbourne in the past few years and might plan to do a 20-year celebration with past Blood Duster members. On its band page, Blood Duster mentions that Jason will perform with a couple of members from Christbait and Pillow in the band Dirtypunkmutha on March 10th at the Northcote Social Club. Jason PC also plays in the band Captain Cleanoff, who have recorded eighteen more songs for split releases and a new album to follow up 2008's "Symphonies of Slackness."
It's been almost five years since we've gotten a slab of tunes from Blood Duster. They plan on coming back, possibly in March, and giving the scene some more humor that is sorely lacking. All the tunes have been written and they just need Tony to put the vocals to it. After they decide whether to self-release it or put it on a label, maybe they'll come back stateside. It's been too long since their performance at Maryland Death Fest, and they are one band that seems to shine in a live environment. But, Jason has said the band won't be around forever. They don't want to create music that some guy in an office downloads for free.
What's Next?
Please share this article if you found it interesting.
---
To minimize comment spam/abuse, you cannot post comments on articles over a month old. Please check the sidebar to the right or the related band pages for recent related news articles.