Red Fang Announces European Dates With Black Tusk
Having just wrapped up a successful American and European tour with Mastodon, Relapse recording artists Red Fang have announced their next trek through Europe. Red Fang will be starting the next leg of it's European tour with labelmates Black Tusk , starting April 5th in Italy and concluding it's run on May 8th in St. Petersburg. The list of dates follows:
Apr. 5 Segrate (MI), Italy Magnolia
Apr. 6 Rome, Italy Traffic
Apr. 7 Montecchio Maggiore (VI), Italy E20 Underground
Apr. 8 Bulle, Switzerland Ebullition
Apr. 9 Lyon, France TBA
Apr. 10 Nantes, France Le Ferrailleur
Apr. 11 Paris, France Les Combustibles
Apr. 12 Tilburg, Netherlands Roadburn Festival Tickets
Apr. 13 Torhout, Belgium Club de B
Apr. 14 Marbehan , Belgium Bois Des Isles
Apr. 15 Southampton, UK Joiners
Apr. 16 Manchester, UK Star and Garter
Apr. 17 Wrexham, UK Central Station
Apr. 18 London, UK Underworld
Apr. 19 Nijmegen, Netherlands Doornroosje
Apr. 20 Leeuwarden, Netherlands Asteriks
Apr. 21 Berlin, Germany Desertfest
Apr. 22 Athens, Greece An Club (RED FANG ONLY)
Apr. 24 Helsinki, Finland Tavastia
Apr. 26 Hamburg, Germany Hafenklang
Apr. 27 Wiesbaden, Germany Schlachthof
Apr. 28 Winterthur, Schweiz Gaswerk
Apr. 29 Salzburg, Austria Rockhouse Bar
Apr. 30 Bozen, Italy Halle 28
May 1 Wien, Austria Arena
May 2 München, Germany Feierwerk
May 3 Wroclaw, Poland Asymetry Festival
May 4 Kiel, Germany Schaubude
May 5 Essen, Germany Cafe Nova
May 6 Kiev, Ukraine TBA
May 7 Moscow, Russia Plan B
May 8 St. Petersburg, Russia Orlandina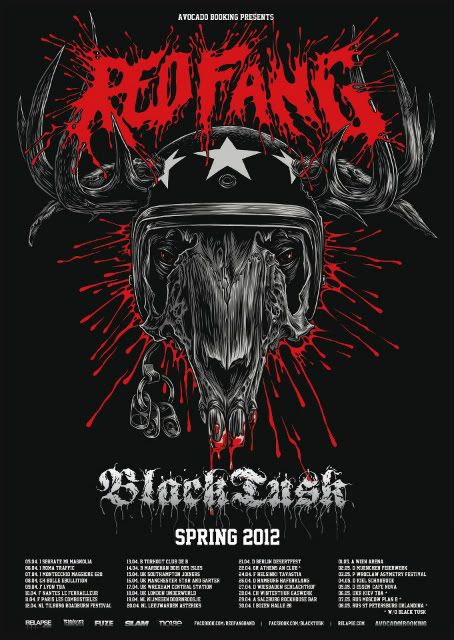 What's Next?
Please share this article if you found it interesting.
---
To minimize comment spam/abuse, you cannot post comments on articles over a month old. Please check the sidebar to the right or the related band pages for recent related news articles.