My Dying Bride Launches Audio Teaser For 20th Anniversary Set "Evinta"
U.K. act My Dying Bride has launched a mini-site in anticipation of the band's forthcoming 20-year anniversary collection "Evinta." The mini-site contains an album audio teaser, desktop backgrounds, an iTunes app, and more. Fans can also sign up for the Peaceville Records mailing list to receive a free download of a song from the commemorative collection. Head over to this location to access the exclusive My Dying Bride content.
"Evinta" will be released on May 31st on Peaceville Records as a two-disc set and deluxe three-disc edition with 64-page book inspired by My Dying Bride's illustrious recordings of the past two decades.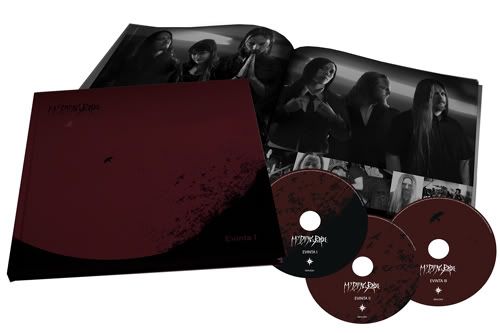 My Dying Bride commented on the release, "Evinta. A project almost 15 years in the making. An idea that has sat smoldering and never really had a reason to burn alive until now. Nine albums worth of darkness recreated anew to mark 20 years of MDB. Music arranged to the soundscapes of sorrows past. Finally the 20th anniversary allows us to release this music in a form it has been desperately, woefully waiting for. Enjoy the Darkness."
The band's upcoming live shows are as follows:
May 18 2011, O2 Islington Academy, London, England
May 19 2011, Manchester Academy, Manchester, England
May 20 2011, Wulfrun Hall, Wolverhampton, England
May 21 2011, Button Factory, Dublin, Ireland
May 22 2011, The Spring & Airbrake, Belfast, N. Ireland
What's Next?
Please share this article if you found it interesting.
---
0 Comments on "My Dying Bride Launches Audio Teaser For 'Evinta'"
Be the first to comment! Tell us what you think. (no login required)
To minimize comment spam/abuse, you cannot post comments on articles over a month old. Please check the sidebar to the right or the related band pages for recent related news articles.