J.D. Overdrive Streaming New Songs "Ballbreaker" And "Purple Haze"
J.D. Overdrive has issued the following announcement about streaming two songs online from the band's upcoming album:
"Ahoy! Finally we reveal two premiere tracks from our upcoming debut album 'Sex, Whiskey & Southern Blood' on our Myspace and Facebook accounts, as well as on our website! The tracks would have been there sooner but the MMP promotion department is relentless;) But hey, at least this way one of the tracks (or both if we're lucky) will be played on air by Antyradio! We hope you'll enjoy both 'Ballbreaker' and 'Purple Haze!'
"We would also like to welcome Tommy Cedzynski in our ranks as our new official bass player. Tommy used to play in Silver Samurai and Formis, he is already after his first field test with JDO and all is looking good from our side. Give the guy a warm welcome!"
The "Sex Whiskey & Southern Blood" cover art and track listing can be viewed below.
1. A Taste Of The South…
2. Ballbreaker
3. Boot Hill
4. Truth Teller
5. No Man's Land
6. The Art Of Demolition
7. Stoned To Death
8. Guilt And Redemption
9. Purple Haze
10. Demonize
11. Into The Same River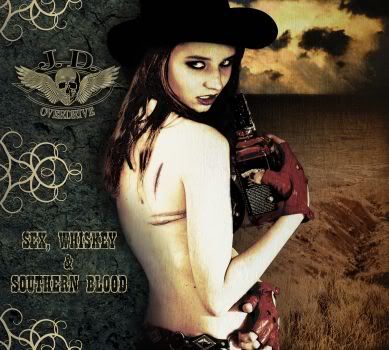 What's Next?
Please share this article if you found it interesting.
---
To minimize comment spam/abuse, you cannot post comments on articles over a month old. Please check the sidebar to the right or the related band pages for recent related news articles.