Daemonicus Checks In From The Recording Studio
Daemonicus recently entered C.C.H.B. studio to record the band's second full-length album with producer Krille Krilltrack Englund. The band has now issued the following recording update:
"Back in C.C.H.B. studio aka Syndens Näste! We have manage to set the most brutal guitar sound ever! I'm not gonna fill you in on all details but I can promise you that is sounds awesome. Engl with a twist of the classic HM2 pedal and a bunch of other cool stuff did the trick.
"Embracing Her Remains and Grandeur of Total Devastation is the name of two tracks that we have finished the guitars on! Stay tuned for more metal-updates!"
Two photos from the studio, bearing the captions "PO and Pike fixing the sound!" and "Pike, Magnus Boström and Johan Hallbäck doing what they do best!!" can both be viewed below.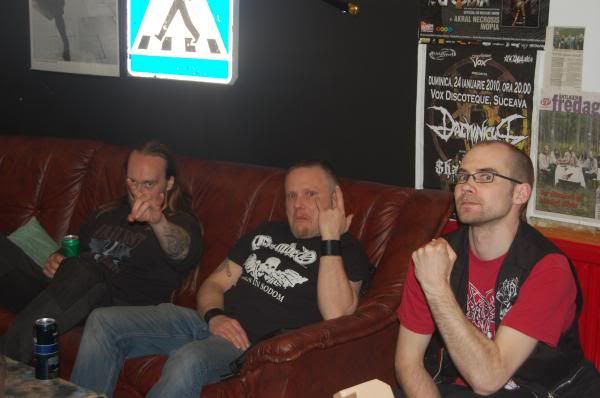 The last studio update from the band can also be found at this location.
What's Next?
Please share this article if you found it interesting.
---
0 Comments on "Daemonicus Checks In From The Studio"
Be the first to comment! Tell us what you think. (no login required)
To minimize comment spam/abuse, you cannot post comments on articles over a month old. Please check the sidebar to the right or the related band pages for recent related news articles.