Bulldozer Announces Special Edition Release Of "Unexpected Fate"
European thrash act Bulldozer was formed in 1980 by bassist Dario Carria and guitarist Andy Panigada. After having finalized the line-up with Alberto "AC Wild" Contini taking over bass and vocal duties and Don Andras playing drums, Bulldozer recorded the "Fallen Angel" demo. This recording immediately caught the attention of Roadrunner Records, who went on to release the band's debut album "The Day Of Wrath" and the follow-up "The Final Separation." In the following years Bulldozer released two additional studio albums, "IX" (1987) and "Neurodeliri" (1988), followed by the release of a live album, "Alive... In Poland" (1990) which was the last Bulldozer effort for many years to come. The long awaited comeback album "Unexpected Fate" dropped in 2009, after signing a worldwide recording deal with Scarlet Records.
June 14th, 2011 will now see Scarlet Records releasing a special edition of the album including 4 bonus Bulldozer classics ("Minkions," "Micro V.I.P.," "Willfull Death" and the "IX/Desert" medley) recorded live at the Rock Hard Festival 2010 in Gelsenkirchen, Germany. The track listing is as follows:
1. Unexpected Fate
2. Aces Of Blasphemy
3. Salvation For Sale
4. Use Your Brain
5. Micro Vip
6. Bastards
7. Buried Alive By Trash
8. The Counter-Crusade
9. The Prediction
10. In The Name
11. IX/Desert (live at Rock Hard Festival 2010)
12. Minkions (live at Rock Hard Festival 2010)
13. Micro V.I.P. (live at Rock Hard Festival 2010)
14. Willful Death (live at Rock Hard Festival 2010)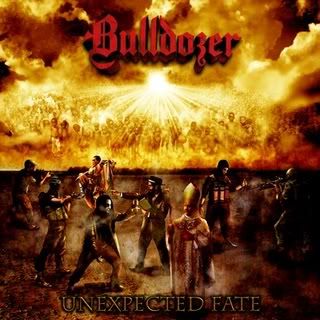 What's Next?
Please share this article if you found it interesting.
---
0 Comments on "Bulldozer Announces Special Edition Album Release"
Be the first to comment! Tell us what you think. (no login required)
To minimize comment spam/abuse, you cannot post comments on articles over a month old. Please check the sidebar to the right or the related band pages for recent related news articles.