Interview
Benighted Talks Ignoring Musical Trends, Covering Nasum, And Recording A New Death/Grind Album
Band Photo: Benighted (?)
French act Benighted dips into the psyche of a serial killer, with predictably violent and extreme results, in the band's latest death/grind offering "Asylum Cave." Besides the members of the five-piece themselves, "Asylum Cave" also sees guest spots from Sven de Caluwé of Aborted and Mike Majewski of Devourment.
Benighted vocalist Julien Truchan shared the madness of the serial killer's mind with Metalunderground.com, explaining how the band has changed over the last decade, the group's refusal to pay attention to musical trends, and recording at Kohlekeller Studio in Germany.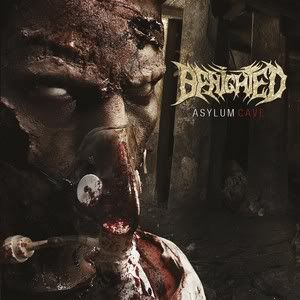 xFiruath: How has Benighted changed since the first album came out?
Julien: Our first album was in 2001, lots of things have changed since this time. Our lineup is stable since 2006 with the arrival of our new drummer Kevin and we welcomed Eric in 2004 as our new bassist. No more changes after that. We recorded six albums and the new one "Asylum Cave" is just available for two weeks and we already received an amazing welcome from fans, reviews, orders, and gig demands. This new piece is an album of pure death-grind at the same time brutal and groovy. Our music evolved a bit with years but death metal always stayed our base with the influences of each member making it richer and schizophrenic according to our concept.
xFiruath: Looking back on your discography, is there anything you'd like to change now and do you have any plans for a compilation or "best of" type release?
Julien: I wouldn't change anything; we have always made our stuff with passion and integrity. We never paid attention to musical fashions or what people were waiting for. We acted with our guts. Of course we all evolved as musician and person with the years but every time it was for better. And to answer you question, we don't intent to make some kind of best-of in a close future, a live record would be more appropriated to our spirit.
xFiruath: Do you write lyrics or music first and how does the band put together a new song?
Julien: Music always comes first. Olivier, Liem, or Eric brings some riffs with an idea of a track and we build the structure, breaks, arrangements altogether to make it sound Benighted. We use each opinion or influence to make it more effective and catchy. And we love to put some short surprising stuff in our songs too! We have no limit in experiences if it serves the Benighted identity. I write the lyrics at the very end, when I'm sure of my vocals parts. With the lyrics coming after, I have more freedom to make my voices stuff.
xFiruath: Where was the "Asylum Cave" album recorded and how did the recording sessions go?
Julien: We went back to the Kohlekeller Studio in Germany, where we recorded our three last albums. We feel like home there, Kohle is a very good friend and we finished the work at the end of the day, we all went to town to party together and find our friends of Crematory and Disbelief who live very close to the studio.
xFiruath: Tell me a bit about the guest musicians you brought on for the new album and how it was working with them.
Julien: We had the chance to have Sven from Aborted and Mike from Devourment as guest vocals. Sven is like a brother to us, we played so many times together I can't even count it. It was quite natural to invite him on "Unborn Infected Children" as he's a great vocalist and an amazing frontman too! About Mike, we've been in contact by mails sometimes and as I'm a big fan of Devourment. I asked him to put some of his sick vocals on "A Quiet Day" and he told me he would happy to appear on our album. The result is awesome, this man is a monster!
xFiruath: How does the new album compare to the rest of the Benighted releases and how has the sound changed?
Julien: We thought every detail to simply have a better sound in every point. The work was made instrument by instrument. For example for the recording this time we paid particular attention to the drums which had to be more present and all natural except the double bass which uses a trigger. And our bass sound is more crushing and aggressive too! The result is the more powerful and massive sound the band never had.
xFiruath: What prompted you to do the Nasum cover track and how did you approach covering the song?
Julien: We intended to have s limited edition for our new album and for that we prepared some bonus stuff. The choice of covering Nasum is quite simple, it's a band everyone respects a lot in the band, and we chose "Wrath" because it's a killer song, without blast beats but with such a groovy feeling all along it. To play this song, we made the tempo a bit higher than the original version and I paid attention to use my vocals as if there were three different singers answering each other.
xFiruath: Is there a particular theme between the lyrics on the album?
Julien: The concept of the album is about the story of a schizophrenic man who lives alone in his deceased parent's house, stopped his medication for a long time, and can't handle his delirious crisis any more. His anguish is mixed with sexual desires, pulses of violence and he thinks he's got in his own cave a "thing" he can throw all his anger and hostility on, without realizing he plays all the roles in his delirious system. This delirium was nourished by the Fritzl case he watched on TV and assimilated as his own story. He doesn't really know who Josef Fritzl is but he rebuilt his delusional world around him.
xFiruath: How is your local metal scene and do you get to play hometown shows often?
Julien: There are lots of bands, especially grindcore bands. Our local scene is very active but unfortunately misses some good locations to play. Now we've got a bigger name, we play most of time outside France, which is great because it's often very hard for a French band to play somewhere else than his own country.
xFiruath: Will Benighted be touring in support of the album anytime soon?
Julien: Of course! We've got a French tour in April with our friends of Kronos and Gorod, the "Unleash The Hostile Tour," and we're already planned for great European festivals like the Neurotic Death Fest in Holland or the Summer Breeze in Germany. Many others are going to be confirmed, we're so impatient to start touring for this album. The new tracks are really made for stage!
xFiruath: Are any of the band members currently active with any other bands besides Benighted?
Julien: Yes, our frummer Kevin plays in Disavowed (Holland) and he often helps some bands for tours when their drummer in unavailable, he already played with Nightmare, Burning Skies, or Sabaton for example. Our bassist Eric plays also in For Many Reasons and Torsoleptus in France.
xFiruath: What bands and albums have you been digging lately?
Julien: I'm waiting impatiently for the new Morbid Angel, and recently I re-discovered stuff like the album from Devourment "138" which is absolutely great, and the last Dying Fetus I find awesome.
xFiruath: Anything else you'd like to talk about?
Julien: Just thank you for this interview and we invite everybody to discover our new album "Asylum Cave," waiting to come to you on tour to show you what Benighted is capable of on stage. Stay sick!
Ty Arthur splits his time between writing dark fiction, spreading the word about underground metal bands, and bringing you the latest gaming news. His sci-fi, grimdark fantasy, and horror novels can be found at Amazon.
What's Next?
Please share this article if you found it interesting.
---
To minimize comment spam/abuse, you cannot post comments on articles over a month old. Please check the sidebar to the right or the related band pages for recent related news articles.