Interview
Dark Hound Talks Type O Negative And Upcoming Peter Steele Tribute Album
Band Photo: Dark Hound (?)
Nashville, TN based melodic metal band Dark Hound recenlty recorded a high energy, fist-pumping cover of Type O Negative's "Life is Killing Me," which will be appearing on Metalunderground.com's upcoming tribute album to Peter Steele.
Following our previous video interview with contributing band Autumns Eyes about the tribute album, Dark Hound bassist/vocalist Ephraim Taylor (ET) has also shared his experiences with Peter Steele's iconic vocals and music. ET discusses being exposed to the band in high school through Type O Negative's cover of "Cinnamon Girl," hearing "Life is Killing Me" for the first time, and how the band approached the cover recording process.
To get acquainted with Dark Hound before the release of the tribute album, you can head over to the band's Facebook and MySpace pages, or check out ET's words below and photos from the recording sessions.
xFiruath: Other than contributing to the tribute album, what's been going on with your band lately?
ET: Well, we're gearing things back up after being quiet for about the last year. We had a line-up change, and our new guitar player hasn't been in town full-time, so we've just been getting all our ducks in a row to come out the gate blasting. Our new guitar player, Evan Hensley, is actually in Greece at this very moment. He plays guitar for the Greek band Nightfall and they're opening up for Cradle of Filth in Athens in the next few days. So as soon as he gets back we're going to be playing out, recording an album, and getting the beast roaring. I've been building a website, we're getting new merch orders ready, basically planning our takeover of the world.
xFiruath: Do you recall where you were or what you were doing when the news broke that Peter had died?
ET: Yeah, I was at work, doing my usual morning routine of checking all the metal news sites like Metalunderground and Blabbermouth before I actually start working. And I read the news. It was yet another blow in a long succession of some of my favorite artists passing before I was ready for them to. I was really looking forward to the follow-up to "Dead Again." Damn it.
xFiruath: When did you first get exposed to Type O Negative or any of Peter's other bands?
ET: I first heard Type O Negative when I was entering high school, so this would have been about 2001-2002. I was in the process of delving headfirst into all new kinds of metal, and purchasing all sorts of cheap used CDs just to find new stuff. I had gotten a Roadrunner compilation CD for a couple of bucks somewhere on a road trip with my family, and had my headphones on riding in the car. I remember just listening to these random songs, digging some of them, not digging others. And the last song on the CD was Type O's version of "Cinnamon Girl." I remember grabbing for the CD case as soon as I heard Peter's voice. I had to know who that was immediately. That's what got me going back and checking out their back catalogue. At around the same time I got a DVD called "Death Metal: A Documentary." Peter was in it, being interviewed mostly about his Carnivore days. So I of course had to check out some Carnivore! Peter's personality was just so magnetic in those interviews. He had this insanely sharp sense of wit and humor lacing what would be considered dull and stupid answers if delivered by anyone else. As a budding 14 year old, I thought he was so cool! And I still do...
xFiruath: Which Type O Negative album have you listened to the most and what do you dig about it?
ET: After hearing Type O Negative on that compilation CD, I of course went back and explored their classic material. But you know how the stuff that you get first usually stays your favorite? Even if you know it's not their best material, it sticks in your brain more than the stuff you know is the premium? The reason we did "Life Is Killing Me" on this tribute is because that album was the one that came out soon after I started to get into Type O. So it was the first one that I was excited for before it came out, the first one that I got to go get brand new, unwrap the plastic, peel off the sticker, pop that fresh sucker in my player and spin it over and over. I know I caught 'em on the tail end, but that's a great album. And I just love that song, it has that signature extreme sludge groove, so heavy, but the chorus is just so rockin!
xFiruath: Where did you record your tribute track and how did the recording process go?
ET: We recorded our tribute track in our friend's basement, as cliché as that sounds these days. Kaelin Tauxe, who I played in bands with in college, is an extremely talented engineer and producer, we've recorded demos with him for years. He's built a studio in his basement lately, and it is just awesome. We tracked all the instruments in one day and then the next weekend did the vocals in about an hour. Working with someone we know so well, we got a good price for the quality of the product he produced, and everything was just so comfortable and smooth. If you're in the Nashville area you need to hit this guy up.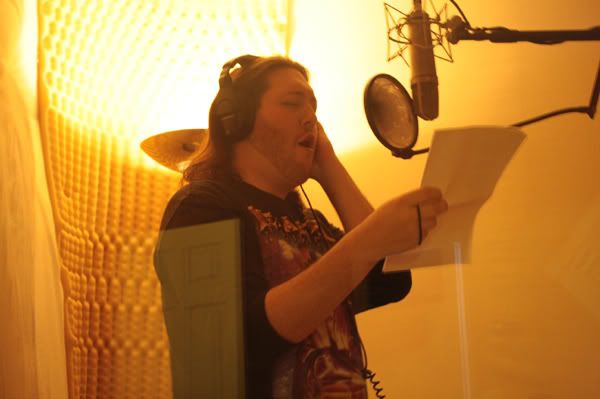 xFiruath: How did you approach the cover song?
ET: We stuck to the original for the basic tracks. Mostly. My voice isn't really much like Peter's, but for the first verse I tried to do a Peter-esque thing on there. From there I took in more in my direction. Once we got the basic rhythm tracks down we really started to Dark Hound-ify it. Harmonizing guitar lines, adding in a solo section, things to make it sound like us. We didn't use any keyboards on the song (we don't have a keyboard player), but rather an organ effect played by guitars, for those quiet breaks in there. It turned out really cool. So we tried to stay true to overall presentation of the song, but definitely put our sound stamp on there. I'm really pleased and excited about how well it turned out.
xFiruath: Been to any good shows lately or seen anything crazy at a concert?
ET: Just a few days ago I went and saw Rush here in Nashville. I got tickets through work. The company I work for represents Rush's public performance rights in the US, so we were on the 10th row. Every other time I've seen Rush has been from the lawn, so this was pretty amazing. Those guys are at the top of their game, seriously. Alex Lifeson in particular fucking blew me away. I'm still trying to get over it!
xFiruath: Does your band have any upcoming live shows?
ET: We're playing here in Nashville at The Muse on July 19th with Spellcaster and Split Heaven. Should be a great show, if you're in the area come out. Once we get this website up we'll have any show dates confirmed on there.
xFiruath: With the frequent loss of musical legends recently, who do you personally see as the "new breed" of metal icons who will influence future generations of musicians?
ET: I think there are a few bands that are pretty big right now who could reach icon status. To me, the people that get remembered are the ones, like Peter, that forged above and beyond what everyone around them were doing. So bands like Opeth, Mastodon, Devin Townsend, The Dear Hunter, Arch Enemy these are all bands and musicians who I feel are pushing the bounds of the musical landscape, not settling into a formula and doing things the way they've always done them. For me, those are the kinds of bands that stick out and I will continue to buy everything they put out, because even if they do something that isn't necessarily the direction I would have liked them to take, I still appreciate the musical journey that I feel like I'm on with all of them. Bands that continue to just put out the same album over and over, not that they're not awesome, but I lose interest after awhile. Why buy their new album if it's no different from ones I already have, you know? So yeah, I think those kinds of musicians will be the ones whose names will still stand tall after they're gone.
xFiruath: Anything else you'd like to discuss?
ET: I just want to thank Metalunderground for putting together such an awesome project, it's been a pleasure and an honor to be a part of it. And thank you to everyone who downloads and listens to it and helps us in celebrating the life and music of the awesome and inimitable Peter Steele. If you like our sound or want to know more about us, our website should be up by the time this comes out, if not soon after. It has links to all our myspace/facebook/twitter outlets, and that will be the best place to get up-to-date info as we continue on the warpath. Drink one for Peter tonight!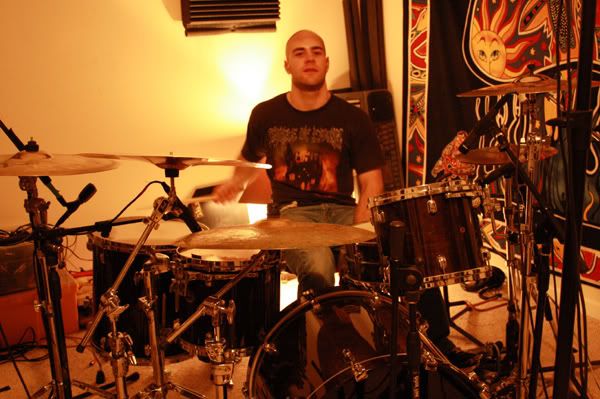 Ty Arthur splits his time between writing dark fiction, spreading the word about underground metal bands, and bringing you the latest gaming news. His sci-fi, grimdark fantasy, and horror novels can be found at Amazon.
What's Next?
Please share this article if you found it interesting.
---
0 Comments on "Dark Hound Reflects On Peter Steele's Legacy"
Be the first to comment! Tell us what you think. (no login required)
To minimize comment spam/abuse, you cannot post comments on articles over a month old. Please check the sidebar to the right or the related band pages for recent related news articles.