Bong Announces "Beyond Ancient Space" Album Release
English label Ritual Productions has issued the following announcement about releasing Bong's "Beyond Ancient Space" album:
"Ritual Productions is proud to announce the release of 'Beyond Ancient Space' from Bong, a band who have cut their teeth on the live circuit, as well as releasing a plethora of splits, live records and studio recordings for over five years now.
"As with all their music be it live performance or studio recordings, Beyond Ancient Space follows the same ritualistic path, that is to say the songs are all mesmerizing meditative jams centered around an unfurling guitar riff and gelled by spaced-out drum beats, the occasional crashing cymbals and Dave Terry's distinctive vocal style. Once again Bong are shunning any overdubs and keep the postproduction to a minimum. The resulting sound is as deeply hypnotic as ever before and presents Bong at their most prolific, particularly on songs such as 'Across The Time-stream' and 'Onward To Perdóndaris' which surpass even the highest of expectations.
"Slow, chanting vocals and spoken-word sections are drawn from the lands of Lord Dunsany, Clark Ashton Smith and other dreamers' tales from the early 20th century, mirroring their stories of hashish-induced sojourns to outer worlds. Musical influences include 1970s psychedelic rock groups (especially Parson Sound) and doom staples such as Come My Fanatics - era Electric Wizard and Sleep's Jerusalem.
"Whilst it is true that certain musical reference points come to mind when listening to Bong, they still succeed in sounding imaginative. And even without the aid of narcotics, their sound has an ability to transcend your conscience and guide you on an inward journey, which can go on forever, if you surrender to it. Sit back, surrender your ears to the sounds of Beyond Ancient Space and smoke 'em if you got 'em!"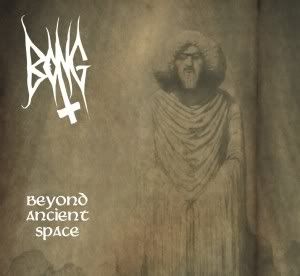 What's Next?
Please share this article if you found it interesting.
---
0 Comments on "Bong Announces 'Beyond Ancient Space' Release"
Be the first to comment! Tell us what you think. (no login required)
To minimize comment spam/abuse, you cannot post comments on articles over a month old. Please check the sidebar to the right or the related band pages for recent related news articles.