OpEd
The Face of Metal: Album Cover Artists
The tradition of morbid and complex album covers associated with metal is a hallowed and unique one in the music world. Your band has faces in colorful ironic Warhol fashion to appease your delicate audience? Ha! give me a painting of a robot seated a ludicrous time machine going back to assassinate Jesus any day. Creative artwork that captivate us in that unforgettable record store moment is the domain of metal, untethered by "good taste" or censorship. In this column, I'll be unearthing several of the big names who have been behind the scenes over the years influencing the twisted face of metal music.
Ed Repka
While Metallica may have had the skull-obsessed art of Pushead, Megadeth had the thrash metal mastermind Ed Repka. Ed has been a stalwart of the scene since it's inception and despite the years of intricate and colourful masterworks behind him he is still going strong. His pieces regularly focus on a leering character in the foreground and espouse themes of nuclear horrors, skeletal figures and oppressive political and business power. Out of all the metal artists he is possibly the most prolific, especially in the thrash metal arena; From Hirax to Nuclear Assault, Possessed to Toxik, and plenty of recent bands such Hexen and Austrian Death Machine - all draw the common thread of Ed Repka's comical madness. Here are some well loved examples:

(Pictured: Megadeth - "Rust In Peace", Death - "Scream Bloody Gore", Vio-Lence - "Eternal Nightmare", Municipal Waste - "Hazardous Mutation")
Dan Seagrave
Instantly recognizable in form, Dan Seagrave has been the face of death metal since it exploded from Florida in the early 90s. His first artistic incarnation was an extension of the 80s thrash art, intricate paintings of fantastic abominations and the wretched landscapes of twisted nether-worlds. His later output saw him come into his own style with swirling blade like sentinels and organic temples on frozen planets. Only a cursory look over a few death metal classics will reveal his signature, while his new style graces the likes of Demon Hunter, Devourment and oh so many more.

(Pictured: Nocturnus - "The Key", Malevolent Creation - "Stillborn", Suffocation - "Effigy Of The Forgotten", Devourment - "Unleash the Carnivore")
Travis Smith
Travis Smith is a name that you will hear a lot of if you pay attention to the fine print of metal releases at all. No, not that Trivium guy - I'm talking about the Travis Smith whose graphic artistry has been secured by 100+ metal acts over the last two decades. Breaking away from the traditional hand painted nature of early metal artwork, Smith's smoky photographic style features forlorn figures drifting in funereal lands, strange disassociation and empty souls. Perfectly suiting the romantic mysticism of bands like Opeth and Katatonia, you will undoubtedly be surprised at the ubiquity of his work.

(Pictured: Opeth - "Still Life", Katatonia - "Tonight's Decision", Nevermore - "The Enemies Of Reality", Heathen - "The Evolution Of Chaos")
Necrolord
Next up is the one and only Necrolord. Not only an album cover artist and the progenitor of a distinct style of black metal vision, he was also the guitarist for legendary underground bands Grotesque and Liers In Wait. Formally known as Kristian Wåhlin, his unashamedly epic depictions of frozen fortifications and icy blue, black and white wastelands have been chosen for the cover of many a Scandinavian masterpiece. Without question, his style has been cemented as the popular depiction of the grim northern mountains so often referenced.

(Pictured: Dissection - "Storm Of The Lights Bane", Emperor - "In The Nightside Eclipse", Bathory - "Nordland I", Sacramentum - "Far Away from the Sun")
H.R. Giger
While most artists on this list are primarily know for their album cover work, H.R. Giger is a name renowned for his extraterrestrial and highly recognizable fine art. Having lent his skills to a multitude of mediums including films such as "Alien" and "Species", Giger's contorted, mechanized and darkly sexual pieces and have shaped the modern perception of alien form. Not only this, but they have been a natural fit to forward looking metal acts with the right contacts. An interesting note is his link to legendary metal figure Tom G. Warrior who has among other things worked for him as a curative assistant. Here are some of his well known contributions to the metal sphere:

(Pictured: Celtic Frost - "To Mega Therion", Carcass - "Heartwork", Danzig - "Danzig III: How the Gods Kill", Triptykon - "Eparistera Daimones")
Eliran Kantor
We've covered many well known examples of metal album cover artists so I thought I'd also take the chance to mention new names who are blazing their way as wizards in the field. Eliran Kantor has been setting a steady pace with album art work and recently upped the ante with likes of Atheist, Testament, Sodom and Mekong Delta making him their artist of choice. With a highly detailed yet conversely abstract style of melting baroque images you are sure to be purchasing many more albums showing off his fine strokes in the future.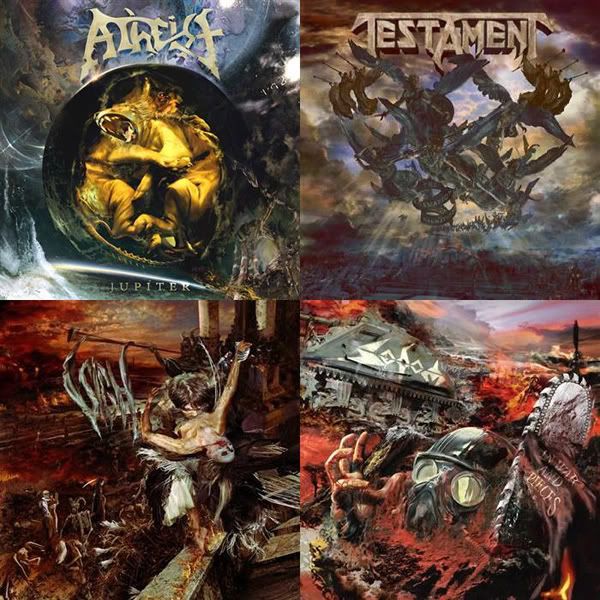 (Pictured: Atheist - "Jupiter", Testament - "The Formation Of Damnation", Sigh - "Scenes From Hell", Sodom - "In War And Pieces")
Par Oloffson
Hot on the heels of Dan Seagrave's strange creations is another newcomer Par Oloffson who produces similar swirling organic and alien forms, among other perfectly metal depictions of zombie hordes and apocalyptic disasters. Prime examples of his work have been displayed by The Faceless and Braindrill, with new examples appearing regularly and almost exclusively in the metal realm.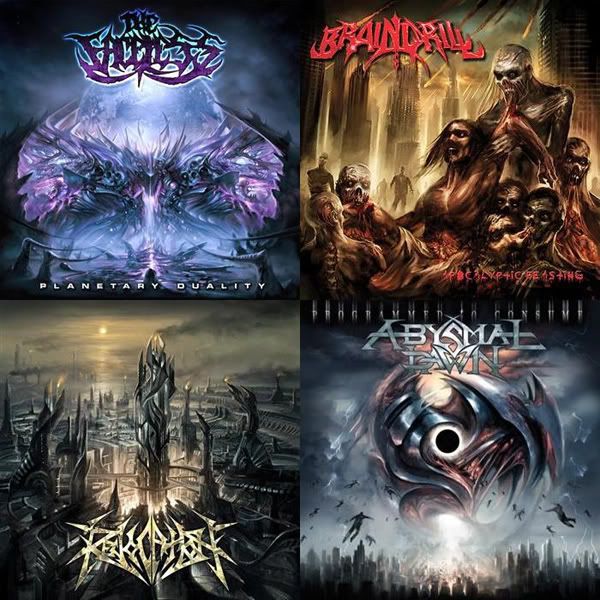 (The Faceless - "Planetary Duality", Braindrill - "Apocalyptic Feasting", Revocation - "Empire Of The Obscene", Abysmal Dawn - "Programmed To Consume")
I haven't exhausted my list of metal artists, but I have exhausted my time - if there are album covers you particularly like from these artists, or know of other prolific producers that I've left out please do discuss them in the comments below.
What's Next?
Please share this article if you found it interesting.
---
To minimize comment spam/abuse, you cannot post comments on articles over a month old. Please check the sidebar to the right or the related band pages for recent related news articles.