Interview
Combichrist Comments On New Industrial Masterpiece "This Is Where Death Begins"
Combichrist started in Norway in the early '90s by Andy LaPlegua. He was enraptured by the ambiance found in industrial music. While techno bars are a common site in Europe now, LaPlegua's hometown was unaccustomed to the hard beat at this time. Being such a small town, the musicians were part of a close-knit scene where he lent his time to various projects and genres. Metal was his main love and if it weren't for a legendary black metal player, LaPlegua would have never known the dark sonic passageways of industrial music. This new discovery led to him trying something different, which alienated the metal scene but brought in new faces.
While LaPlegua disenchanted his metal scene when he formed Combichrist, now many of his early followers of Combichrist dispute his new-found direction. "This is Where Death Begins," the group's eighth studio full-length, shows the group stepping away from the synth-based electronica of their earlier period and donning a more metallic shell. This new-found direction has led to the most success of the band's career. "This is Where Death Begins" is on pace to be his all-time best selling album. This was done without feeling trapped by the approval of his fans. The band recently played in front of a massive crowd at Knotfest and has been on tour with Cavalera Conspiracy. With a six-man live group, including two drummers and two guitarists, Combichrist puts on an energetic show few can duplicate.
On the off days of the Cavalera tour, Combichrist heads to smaller cities to headline their own shows. These concerts give their fans much meatier performances, including a set list culled from throughout their career plus many current favorites. Before they took the stage in Austin, Texas, Andy LaPlegua spoke with me about their new album and tour.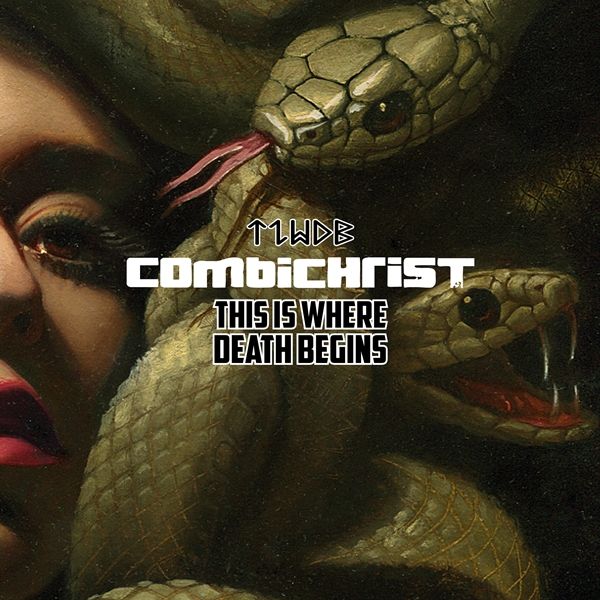 Rex_84: You're halfway through your North American tour with Cavalera Conspiracy. Tonight is a headline show for you. How's the tour going?
Andy LaPlegua: It's been great. The guys are really cool. We've had a great draw. We're close to the dudes, already. We have some days off that we've filled in with headline shows. It's doing really good. It's good for us with the direction we're taking. It's the right crowd for it. It's funny because it's their "Roots" tour, but it's kind of our roots, too. It's kind of ironic, but we're getting back to our roots from the metal scene but way back. We kind of cruised the electronic and industrial stuff but we're back into it again.
Rex_84: When you started the band, were you more metal? I thought it was synth-based?
Andy: Combichrist in itself was basically electronic/power noise stuff like electronica stuff, but before that I came from metal, hardcore, punk rock and stuff like that in the '90s. Really, the only reason I started Combichrist was to venture out and try something new. I was sick and tired of band members. Nobody knew what they wanted to do. Somebody had a day-job and could never get their ass on tour. I'm 41 and I've been touring since I was 16. Eventually I got sick and tired of people not knowing what I wanted to do, so I was like "fuck it! I'll just get some electronic equipment and fuck around with it." That eventually turned into Combichrist. We're gradually getting back to where we were, but have picked up all of our influences, all the small shit from the whole time of Combichrist and I mixed it with where I came from and packaged it all together.
Rex_84: Europe has a huge techno scene. How much did that play on influencing your music in Combichrist?
Andy: Not in the '90s. In the '90s I was into punk rock, metalcore and metal. That was all I was doing. In the '90s there really wasn't a big electronica scene in my hometown. It was mostly metal, death metal and hardcore. That was my scene. It was such a small city that even the guys that did hip hop and synth pop. Those were the things people were into. We were all musicians. We are all doing bands so I could be sitting in a studio and helping somebody out on a hip hop project one day or play bass for a grindcore band the next time. I would play in my punk band one day and then go and play with my metalcore band the next day. It's kind of a crazy city; it's all so tight. Even the black metal scene was part of our scene at that time.
Rex_84: Did you know any of the big-name black metal bands?
Andy: Yes, I knew all of those guys. I grew up, basically, in the same scene. I kind of discovered industrial stuff kind of early. That was all because of Euronymous. I would go to his record store and get metal stuff all the time. He was the first one in Norway to really start selling dark music. We were in his store all the time picking up cool stuff. He was like, "you have to check this out. It's really dark!" It was full-blown industrial. He was already open to it back then.
Rex_84: He liked the atmosphere.
Andy: Exactly. And that's kind of what I wanted in there when I started doing electronica. I wanted that atmosphere. I remember the first time I saw an industrial band live and it was like, "Fuck! This is darker than any black metal band I've ever seen!" just the atmosphere in itself. That's why I want to keep, no matter how far we're in a metal direction, I want to keep that atmospheric, cinematic, industrial feel into it. Even if we end up being like a metalcore band again, we're still going to have that in there. It needs to be in there because it keeps a certain emotion.
Rex_84: What's it like watching Sepultura perform "Roots every night?
Andy: It's crazy because I remember we played a show when they did the original "Roots" tour. I played with my old metalcore band the day after them in the same venue with Machine Head and Crowbar. We got into the city the day before. I didn't even know they were playing, so I saw them back then on the original tour, so actually being able to play that tour now is fucking crazy.
Rex_84: You have a VIP challenge to your fans, which gives them a chance to win a tour bus party pass. What does this challenge entail? Are you enjoying spending this time with your fans?
Andy: Yeah, dude. We used to the do the meet-and-greets before the show. We used to do like 30 people that came into the venue. It wasn't really personal, so we cut it down to five people and do it on the bus instead of. We just hang out on the bus, 21 and up, and we have a ton of alcohol out. We just drink and bullshit and hang out. It's way more personal. In the VIP challenge we have this one extra thing. It's just a party gag. Sometimes it's a chugging contest. The other day we put a bowl of whiskey on the floor and whoever crawled on the floor, drank it without their hands and meowed would win it. There is different shit. It's whatever we come up with. It's just for the party. Just having a good time.
Rex_84: Combichrist played Knotfest meets Ozzfest last weekend. How was this show? What was the crowd response like?
Andy: It was awesome. We couldn't see shit because it was so dusty. It was in the middle of the desert. There were three mosh pits going on at the same time and it was like watching a Mad Max movie. All we could see was dust and people going crazy. It was awesome. I loved it. It was fun, though. We had a good time. We got to see a lot of good bands. We saw Amon Amarth and Suicide Silence.
Rex_84: Were you on hand for Ozzfest, too?
Andy: We got to see Ozzfest, though we got in kind of late. We got there just in time to see Megadeth. That was awesome. Sabbath was killer, obviously. I've seen Sabbath several times, but this was, hands down, the best Sabbath show I've ever seen. It was so fucking good. They were all on. I think they all gave everything because this was supposed to be their last West Coast show ever. Even Ozzy didn't seem that old when he was up there. He really rocked it. Of course, Slayer fucking killed it. Slayer always kills it.
Rex_84: Playing an event like this and being on a tour of such magnitude must be huge for your career. Do you see your fan base rapidly growing? What do you attribute that to?
Andy: When we do headline shows like this, it's in smaller cities in between. The fan base is pretty much constant because we have that hardcore fan base that will come out. We never really do huge things here, those kinds of festivals, because few of those people come back in. Europe is huge for us now because all we've done in the last few years is like Wacken, Summer Breeze, Rock am Ring. That's been huge for us in Europe. Knotfest was basically the first festival we've ever done in North America. We've never really done any festival shows here. We've just been doing venue shows for years and years. That was definitely awesome. We do Europe all the time.
Rex_84: "This Is Where Death Begins" has been out for a few months. How do you feel about the record now that you can reflect on it for the last few months?
Andy: I'm so happy with it. I'm almost to the point where I don't feel like playing any songs from any of the other albums because of the chemistry of us as a live band now. We have two drummers, two guitarists and a bass player. There are six people on stage now. In the past we had so much electronica stuff. All of that seems gone now. We're basically playing as a full live band now and the atmosphere on stage is just different. We're all energized and we all love the new material. We're having so much fun playing it. That makes a good album for us. If the album was good on record but it didn't feel good live, it wouldn't have been a good album to me.
Rex_84: How's the new material going over live? It seems like there are a lot of songs that have chorus lines and refrain that people can really sing to.
Andy: It's going well. We're still doing a lot of old material because you have to keep people happy as well. After eight albums it's really hard to pick a play list to make everybody happy. It's kind of like our favorite list. There are still a couple of songs from the new album that we haven't played live yet that we really want to the next time we're on. This is kind of like we're teasing into it and promoting the album. We do quite a lot of the new material. The response has been great. A lot of people, like the old school fans, hated it when it came out because they are so hardcore electronica. I hate to look at numbers, but we sold twice as much as we did on the previous album in two years. The album has been out for three months. So with that point, should I really worry about the people that complain about it? I have to be happy about seeing that it's doing well because the album is done. I did it not to be successful. I did it because I'm happy with it. I did it because I wanted to do that album. I never changed anything to get commercial success or anything like that. It's way harder than any other album we've done. It's way darker. Some people don't except change. It's surprising to me because every Combichrist release has been different, so I'm really surprised that people don't get that we will do something new.
Rex_84: There are also songs like "We Are the Plague," "My Life My Rules" and "Don't Care How You Feel About It" about doing things your way and not letting people hold you down. On "Destroy Everything" you even say "you can't be a shark if you're a lamb." Is this a theme on the album?
Andy: It is. Also the title "This is Where Death Begins" is not about death, it's about rebirth. Death begins with life. Death begins with birth. So this is kind of a rebirth of the band, so it's like, "If you don't like what I'm doing with the band, fuck you! If you don't like how I feel, fuck you! If you like what we're doing, you're with us. You understand what we're doing." It doesn't only go for the music. It also goes on a personal level. A lot of people get it. A lot of people get that it's not about what other people want from you, it's about what you want to do with your life. This is what I'm doing with music. I've never done it differently. I lost my entire following in the hardcore scene when I started doing electronica. They were like, "what the fuck are you doing?" and suddenly I wasn't part of the scene anymore. To be honest, I didn't give a shit because that is what I wanted to do.
Rex_84: That's like David Vincent from Morbid Angel lives here and he plays country. People make fun of him, but he's doing what he wants to do.
Andy: Do you know how much shit David got when we did an electronica version of one of Morbid Angel's songs? He didn't give a fuck. He released it because he likes us. We love him, too. We are good friends. He just likes what we're doing. We like what he's doing. Why not cooperate and see where it went?
Rex_84: "Black Tar Dove pt 1" and "Black Tar Dove pt 2" are certainly connected tracks. How does the music and lyrics help tell a story and what story are you telling?
Andy: It's basically one song. I kind of saw the whole song as a short movie. There is no real meaning to real life. I just had this demon figure in my head controlling the world like a puppet master. I had all of these images in my head and I thought, "How am I going to put this all down as words?" That's how it ended up. The music came secondary. I knew I had to get a certain feeling with this track. It needs to be a certain way and then I started working on it and thought it was going in the right direction. People are going to hate it but I don't give a shit. We're bringing "Black Tar Dove" and "Homeward" into the set list for the next tour.
Rex_84: You mentioned imagery. "Homeward" has interesting imagery with the raven. Tell me a little about the raven and the metaphor you're working with?
Andy: The whole idea with "Homeward" where we say "this is where death begins" is about the life circle, it's conceptual throughout the album. It's a life circle and homeward is the end. You're going home, you're done. You're walking through your life and you can see everything that happened. You're following this raven into death. You're catching all of this imagery of your life as you walk through these empty streets. There are riots that you're walking through and nobody even knows you're there. You're walking through this maze. Same thing there, I have this short movie kind of vibe to it. I had this idea of Jack the Ripper times with glowing street lamps, cobblestone roads, and people fighting in the streets with billy clubs. All of these characters have a meaning from this character's life and he's walking to the end. It's kind of like the saying that life flashes before your eyes, that's what "Homeward" is.
What do you have planned for after this tour?
Andy: We're doing a festival in Germany on Christmas. It's going to be a fun one. Except for that, I'm going back to the studio in November and December to work on new material or going through the album and see if we want to do another video. I have so many ideas for different videos. I have some ideas for "We Are the Plague." It's massive. I don't know how to put it into action. We'll see how it goes. Hopefully I can come up with the right way to approach it, get it done on paper and get it out to a director to see what we can do. November and December will be my creative home base month. Next year we'll see what happens. We're already talking about doing another North American tour in the spring. I don't know with who yet. I have a few ideas. I have a few people I've been talking to. Either way if it comes together, it's going to be awesome. We're definitely going to do a bigger production and revamp a little bit. We're kind of bare bones on this production. We don't have a light production. We didn't want to bring anything. We just wanted to do the show to prove ourselves that we didn't really need anything as a live band. People can come out and see us now to see that we put on a good show without the production. So many bands are nothing without production. We just wanted to go out, bare-bones rock 'n' roll on this one, come back and do something more massive. That's the idea at least.
What's Next?
Please share this article if you found it interesting.
---
0 Comments on "Combichrist Discusses 'This is Where Death Begins'"
Be the first to comment! Tell us what you think. (no login required)
To minimize comment spam/abuse, you cannot post comments on articles over a month old. Please check the sidebar to the right or the related band pages for recent related news articles.