Interview
Helstar's James Rivera Talks New Album "Vampiro"
When Helstar answered my knock at the door to the green room at Grizzly Hall in Austin, Texas, frontman James Rivera smiled with a mouth full of fangs. As we proceeded through the interviewed, he continued to dress for the stage. He put on gauntlets and a Christopher Lee-type cape. He and the band were preparing for a set that consisted of many vampire tales. This was to promote Helstar's latest full-length album "Vampiro," as well as their first vamperic album, "Nosferatu."
While remaining in the second decade of the new millennium, "Vampiro" is very much a return to their 1989 classic "Nosferatu." One look at the lyrics and any fan of Dracula and vampires will know the films approached. Although beefed up in sound with faster drums and other signs of the modern, extreme metal age, "Vampiro" also recalls "Nosferatu" in its use of neoclassical guitar and speed metal licks by way of axe slingers Andrew Atwood (who also helped with lyrical concepts) and Helstar mainstay, Larry Barragan. Also, as in the case with their single, "Black Cathedral," there are melodies that help instill theatrics and mood.
Rivera spoke to me right before Helstar took the stage. He wanted to warm his voice by answering a few questions. Read further to learn more about why he feels "Vampiro" will be considered one of the band's masterpieces twenty years down from now.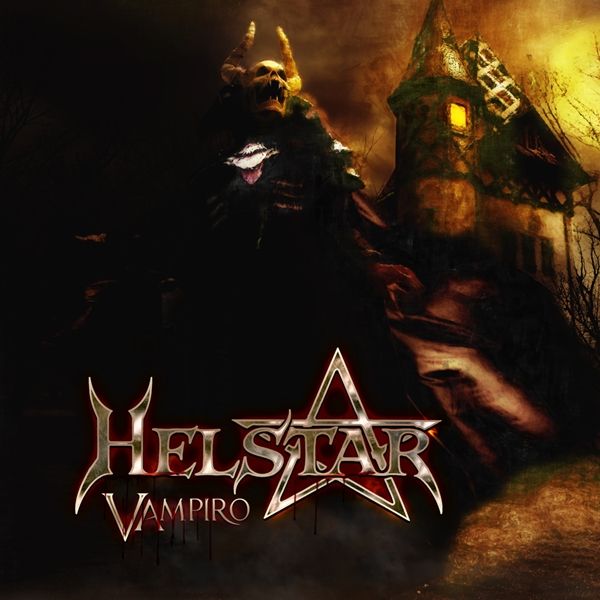 Rex_84: Today is the CD release party for "Vampiro." How do you feel now that the album is done and being released?
James Rivera: Great, it's one of the best works we've done in a long time. We put a lot of work and time into it. We went back to our favorite subject: Dracula and vampires. It's not a continuation of "Nosferatu" but it's kind of like a follow up. "Let's go even further with this one this time."
Rex_84: What are some of the tales you tell on the record?
Rivera: We tried to focus mainly on Christopher Lee movies. There is one song about Bathory. Then there is one song about "Dracula Untold." Then there is one about Bram Stoker's "Dracula." There are a lot of different stories mixed in there. Andrew [Atwood] wrote stuff.

Andrew Atwood: Based on Bram Stoker's "Dracula."
Rex_84: How does this album compare musically to "Nosferatu?" Is it a modernized version of that album?
Rivera: It's a modernized version of it and even you said you thought "Black Cathedral" sounded like "Nosferatu." It was intentionally done that way. I hate to say we didn't think about it too much because we want to do what comes out natural, but we did start thinking that way again. Then again, we don't want to lose what we are now. There is no way we're going to go back to sounding like we did in 1989. We wouldn't want to. I think we're going to take what we are now and go back to that time period and mix it in. That's where we are now.
Rex_84: What about "Nosferatu" has made it endure as a metal classic for twenty-seven years?
Rivera: It's always going to be and I think this one is going to be there with it. Those will always be the two classic Helstar records twenty years from now. We aren't going to do another Dracula on the next album. We don't know what we're going to do. Too much of an overkill is never good, but we felt we could do it because it's been so many years that why not? I always felt we kind of got ripped off on the whole vampire thing. Vampire craze is out of control now. We were doing it way ahead of time.
Rex_84: You released "Black Cathedral" as a sneak peak of the album. Why did you choose this song? How has the feedback been so far?
Rivera: Great, I think the reason why, and to us, it felt like it was the song that wrapped up the whole album and where we were going with it. You would think it would be the number 1 track, but no we didn't. It's actually towards the end of the album, but it sums up everything. That one song shows all the parts we're doing.
Rec_84: "Vampiro" is being released through David Ellefson's (Megadeth) EMP Group. What led you to leaving AMF and opting for his label?
Rivera: It wasn't a bad reason. It's just that we wanted to try something different. Our deal was up with them and they offered us less money. I said, "Dude, when you invest in a band that has give you eight years of their lives, we should go the other way. Not that way." To me, the excuse about the Euro not being what it was is not my problem. I felt like we're not going to do that. We're just going to put it out on our own. The Ellefson thing is almost as good as doing it on our own. They at least take care of the packaging, which would have been a pain in the ass for us to do. Other than that, that's the only reason why.
Rex_84: You played with Ellefson in Killing Machine. Did you know him before that?
Rivera: We toured together back in '86. That's the whole reason why. We toured with Megadeth in 1986. That was the "Remnants of War" tour and at that time they were touring on "Peace Sells" mind you. We've been friends since then. He produced half of "Multiples of Black" when I ran into him in '90s and then after that he started the F5 thing and we started to get into the year 2000-and-something and then the Killing Machine project came up. The guy that was in charge of Killing Machine at the time was asking about a rhythm section. I just reached out to Dave and asked him if he would be interested in this situation. He said, "Hell yeah!" He brought Jimmy DeGrasso along too, so we had the rhythm section from Megadeth. Of course, now he's back in Megadeth and bigger than ever and started his label. He asked me if I wanted to join. Yeah, it's a no-brainer. Let's do this!
Rex_84: Juan Garcia also played in that band with you.
Rivera: Yeah, Juan Garcia from Agent Steel. That was kind of a super star band at the time.
Rex_84: Didn't you perform live with Agent Steel?
Rivera: Masters of Metal. Me and Andrew. Andrew is on that as well. We did the one with them.
Rex_84: You also sang for Flotsam And Jetsam. What were you doing with that band?
Rivera: Basically, I was just filling in because Eric [A.K.] refused to do the tour they had gotten. The tour was already booked, so they didn't want to cancel the tour and Metal Blade knew one guy who could probably do this. I had been on the road with Helstar at the time and they said James Rivera can do it. They called me and asked, "How do you feel about touring with Flotsam?" I said, "Are you serious?" They said Eric quit the band and blah, blah, blah, so I said, "Hell yeah, man!" That's how that happened. I did the whole tour with them, but never got to record anything with them. That was the plan, but Eric came back, and that makes sense. He's got a unique voice like me so it probably wouldn't have been a good idea to do an album.
Rex_84: There was a period of twelve years where Helstar was mostly on hiatus. What was going on during this period?
Rivera: I was doing other stuff. I was doing Destiny's End, Seven Witches, Flotsam, Vicious Rumors, Killing Machine. 2006 was the twenty-year anniversary for "Remnants of War" and that's how this brought back Larry [Barragan], Rob[Trevino], Jerry [Abarca]—almost the whole "Remnants of War" lineup. Once that happened, record deals started popping up. We headlined Keep It True and the next thing you know we're back together. Here we are now.
Rex_84: Omen, another metal veteran, joins you on select dates on the "Texas Vampyric Summer Tour." Have you played shows/toured with this group? Please talk about the decision to bring them on the road with you.
Rivera: We've known each other for years.
Rex_84: What's next for Helstar? Do you have another tour or summer festivals lined up after this tour?
Rivera: We've got all of Florida next week. Then we go up to the East Coast, New York, Maryland and that area. Then we have a little bit of time off and then we do the Valley—Corpus [Christi] and McAllen. Then in October we do two shows with Trouble, which is going to be good for us, big. Immediately after that we do the West Coast—San Francisco and L.A. Then we are done with the U.S. except San Antonio and Houston. Then we're planning everything for Europe in 2017.
What's Next?
Please share this article if you found it interesting.
---
To minimize comment spam/abuse, you cannot post comments on articles over a month old. Please check the sidebar to the right or the related band pages for recent related news articles.