Site Update
April Fools! Did We Get You?
We hope you enjoyed our April fools stories yesterday as much as we did! In our long-standing tradition, we devoted the entire day to fake news and spoofs. We had fun writing them despite the fact that we can't really fool most of you in our thirteenth year of the tradition, even when we start off with some very plausible (yet fake) stories. In case you missed them, you can read yesterday's April Fools stories here.
Promises of a new Iron Maiden album, Lamb Of God drummer Chris Adler being replaced by Dave Lombardo, and MetalSucks being bought out by TMZ were the day's most popular faux stories. MetalSucks even liked and shared the last one for kicks.
If you'd like to check out our past years' April Fools stories, you can do so at the links below:

Thanks for reading. We now return to our regularly scheduled metal news programming.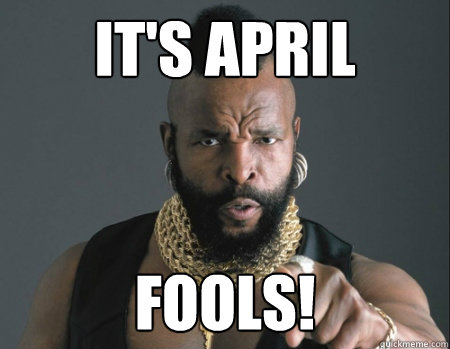 What's Next?
Please share this article if you found it interesting.
---
To minimize comment spam/abuse, you cannot post comments on articles over a month old. Please check the sidebar to the right or the related band pages for recent related news articles.