God Of Atheists Issues Update On Debut Album
After years of waiting, Asgeir Mickelson has today issued a statement indicating the long-overdue God Of Atheists project will finally release an album later this year. He comments:
"The plan: mix during Summer, release some time in the Autumn. Due to studies, Lars Norberg won't have time to record his last bass tracks until May/June.
"Carl August Tidemann has shredded himself into tendinitis-'heaven,' but will record his last three solos as soon as he's back in shape. Vibeke Stenel will record some additional vocals next week. I.C.S. Vortex will also do some minor additional recordings. Sareeta will record the last few bits this month.
"Other news is that I've decided on an artist who's now well into making the artwork for the album. OK, so this is the master plan, but don't shoot me if it fails. Time is my best friend and I take great pride in being slow."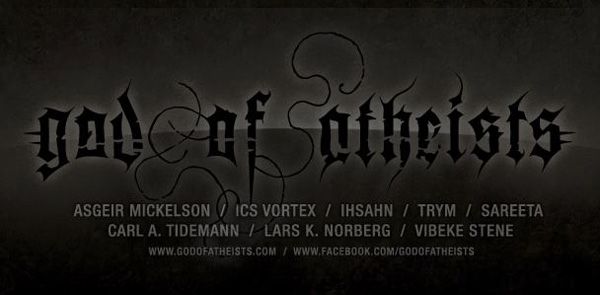 What's Next?
Please share this article if you found it interesting.
---
0 Comments on "God Of Atheists Issues Update On New Album"
Be the first to comment! Tell us what you think. (no login required)
To minimize comment spam/abuse, you cannot post comments on articles over a month old. Please check the sidebar to the right or the related band pages for recent related news articles.