God Of Atheists Checks In With New Album Update
It's been almost a year since the last major update, and now there's finally news about the long-overdue God Of Atheists album! Asgeir Mickelson comments:
"OK, so I'm back on track with the album. If you say you can't wait till this thing is out then let me tell you that it's nothing compared to that I CANNOT WAIT! This has been forever!
"I hoped for a release last year but then I slammed headfirst into a wall called writer's block and spent almost 10 months writing the last two lyrics... I admit I didn't work nonstop on them but how is that possible...?
"Master I.C.S. Vortex finally recorded them on Monday - and now I'm very happy that I didn't just write some ordinary and boring words to record. The lyrics are very personal and important for the album, and I stand by every single venomous word. If you plan to illegally download the album I hope it'll take as long time as I spent just writing ONE of the damned lyrics...
"If you've been waiting for Vortex's grim vocals after Borknagar's 'Quintessence' then this is definitely it! Yes, he's doing his trademark clean vocals too (oh yeah!) but I wanted a good mix of both styles in order to get variation and a dynamic sounding album. In the end you'll obviously be the judge of that. Now I'll get back to work. There's still a lot to do before hunting down a record deal and get this thing out to you."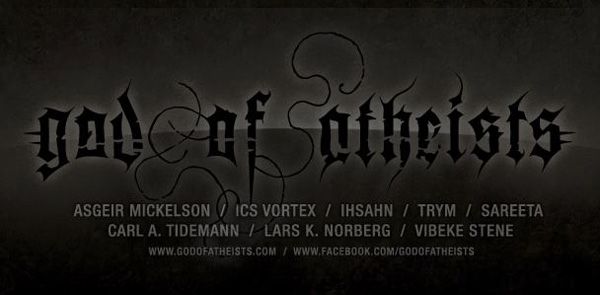 What's Next?
Please share this article if you found it interesting.
---
0 Comments on "God Of Atheists Checks In With Album Update"
Be the first to comment! Tell us what you think. (no login required)
To minimize comment spam/abuse, you cannot post comments on articles over a month old. Please check the sidebar to the right or the related band pages for recent related news articles.