Mournful Congregation Announces U.S. Live Appearances
The newest recordings from South Australia's funeral doom metal quintet Mournful Congregation are nearing release this Summer under the title "Concrescence Of The Sophia," which bridges the 2011 LP "The Book Of Kings" and an impending full-length opus. To be released via 20 Buck Spin on June 24th, the label comments:
"Concrescence Of The Sophia' begins with its title track, which boasts more than twenty minutes of expertly delivered but utterly disconsolate, plodding metal, where 'the weight of all waters, and the mass of all stars' exacts a heavy toll in the timeless pursuit of mystical knowledge.
"The monumental main riff onerously giving foundation to Damon Good's ardently howling leads and sepulchral lament. Acoustic interludes offering only temporary respite to doom's forgone conclusion. On the B-side, 'Silence Of The Passed,' at a mere nine minutes in length nonetheless foretells how vast is the agency of doom."
"Concrescence Of The Sophia" is confirmed for CD, 12" vinyl and digital release in North America on June 24th 2014. Osmose is handling the release onto the rest of the intercontinental territories the same week.
Mournful Congregation will return stateside just after the release of "Concrescence Of The Sophia," to make East Coast debut live appearances. Details are as follows:
6/27/2014 Saint Vitus Bar - Brooklyn, NY @ Martyrdoom w/ Imprecation, Begrime Exemious
6/28/2014 Sidebar - Baltimore, MD w/ Begrime Exemious, Prosanctus Inferi
6/30/2014 Ralph's Rock Diner - Worcester, MA w/ Hell Militia, Lord Mantis, Begrime Exemious
7/01/2014 Saint Vitus Bar - Brooklyn, NY @ Martyrdoom w/ Lycus, Lord Mantis, Vilkacis, Evoken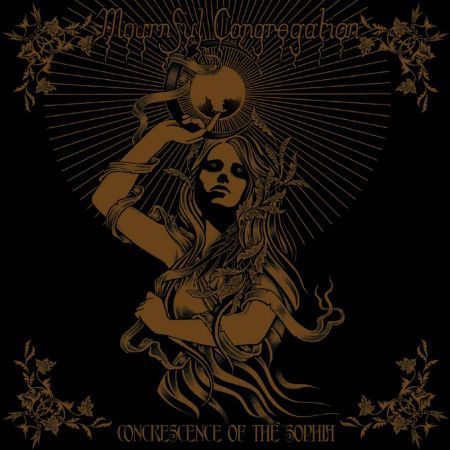 What's Next?
Please share this article if you found it interesting.
---
0 Comments on "Mournful Congregation Announces U.S. Appearances"
Be the first to comment! Tell us what you think. (no login required)
To minimize comment spam/abuse, you cannot post comments on articles over a month old. Please check the sidebar to the right or the related band pages for recent related news articles.