Novembers Doom Reveals "Bled White" Album Details
Band Photo: Novembers Doom (?)
Chicago outfit Novembers Doom will release a ninth studio album titled "Bled White" on July 15th, 2014 via The End Records.
The follow-up to the group's 2011 full-length "Aphotic" was recorded at Belle City Sound with engineer Chris Wisco (Jungle Rot, Nachtmystium) handling recording and co-production duties.
Dan Swano (Bloodbath, Nightingale) spearheaded the mixing for all eleven tracks on "Bled White." The band also comments:
"Every time a band writes and records a new album, they always say things like 'This is our best yet!' and it usually isn't. Is this our best yet? I'll let you decide that, since opinions are all objective. What I will say is this… We approached Bled White differently than the past. We put a lot more focus on vocal melodies and harmonies this time around, creating a new soundscape for Novembers Doom.
"The music is punishing at times with my heaviest growls to date, and others will take you to a new place entirely for us exploring new ground. It's very different at times, but it remains Novembers Doom. I won't say it's our best, but I'll tell you it's the one I'm most proud of… OK. It's our best yet."
The band plans to tour the U.S. and Europe in 2014 in support of this new studio release. The track listing is as follows:
01. Bled White
02. Heartfelt
03. Just Breathe
04. Scorpius
05. Unrest
06. The Memory Room
07. The Brave Pawn
08. Clear
09. The Grand Circle
10. Animus
11. The Silent Dark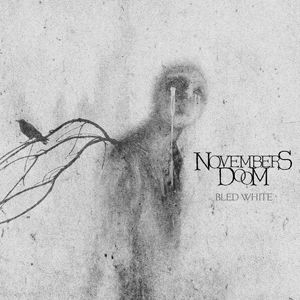 What's Next?
Please share this article if you found it interesting.
---
0 Comments on "Novembers Doom Reveals New Album Details"
Be the first to comment! Tell us what you think. (no login required)
To minimize comment spam/abuse, you cannot post comments on articles over a month old. Please check the sidebar to the right or the related band pages for recent related news articles.