Autopsy Premieres Page From New Comic "Feast For A Funeral"
Band Photo: Autopsy (?)
U.S. death metal outfit Autopsy and MetalSucks.net have teamed up to exclusively launch a page from the band's upcoming digital comic book release, "Autopsy: Feast for a Funeral" (the page can also be seen below).
Additional details about "Autopsy: Feast for a Funeral" will be revealed on the E-Comix Twitter account on Wednesday, April 30th.
"If I had to summarize this comic book in a sound bite, it would be to say 'Food tastes better screaming.' There's your visual," President and Publisher of E-Comix, Vince Brusio, told MetalSucks. "Carnage unseen since old school '80s splatter films. This book is brutal because Autopsy is brutal. So consider yourself warned, kids. No apologies. No regrets."
As with the publisher's first title ("Dying Fetus: Supreme Violence"), "Autopsy: Feast for a Funeral" is full authorized by the band. The comic book tells the tale of college kids who make a terrible mistake: one for which they must suffer, and pay in blood. When they play with stolen property at an impromptu field party, they open a doorway that allows spirits into our material world.
A rescue is planned, but none of this is made known to a rival biker gang that doesn't appreciate their turf trampled on by strangers. Seeking vengeance, the gang approach an old abandoned house to wreak havoc on their party crashers, and learn too late that once the door to Hell is opened, it can't be closed.
Aside from "Autopsy: Feast for a Funeral," the iconic death metal band is currently gearing up for the release of its seventh studio album, "Tourniquets, Hacksaws and Graves," out April 29th on Peaceville.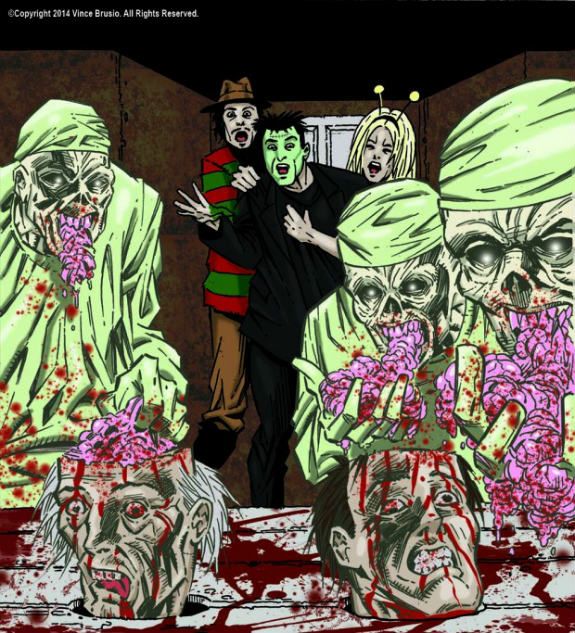 What's Next?
Please share this article if you found it interesting.
---
To minimize comment spam/abuse, you cannot post comments on articles over a month old. Please check the sidebar to the right or the related band pages for recent related news articles.