Graves At Sea Releasing New Split Album With Sourvein
Portland's Graves At Sea and Cape Fear's Sourvein have united in sound, mind, and spirit for the ultimate split of earth-smoldering amplifier worship. The following press release was issued about the split:
"Graves At Sea, whose contributions leave an eerie aura complete with tortured vocals, foreboding composition, and a general sense of dread, occupy Side A. Recorded by Billy Anderson, (Melvins, Sleep, Neurosis) 'Betting On Black' and 'Confession' finds the all-consuming sludge for which the band is notorious, flooding in amongst the tortured howls and shrieks of vocalist Nathan Misterek.
"Sourvein, who've now existed for two decades of distortion, damage and total doom, solidify Side B. With three songs produced and recorded by Mike Dean Of Corrosion of Conformity, these odes of heavy combine toxic riffs, grooves and just the right amount of psychedelic appeal."
The split will be out on May 15th via Seventh Rule Recordings, and pre-orders are available right here. The track listing is as follows:
1. GRAVES AT SEA - Betting On Black
2. GRAVES AT SEA - Confession
3. SOURVEIN - Driffter
4. SOURVEIN - Equinox
5. SOURVEIN - Follow The Light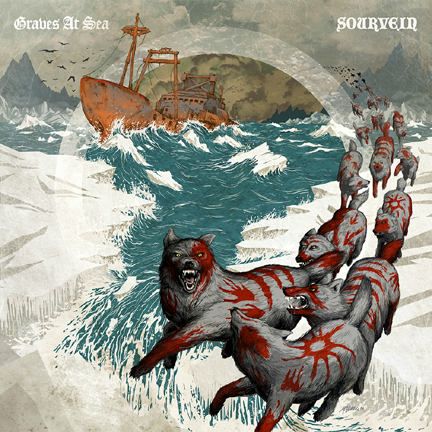 What's Next?
Please share this article if you found it interesting.
---
0 Comments on "Graves At Sea Releasing Split With Sourvein"
Be the first to comment! Tell us what you think. (no login required)
To minimize comment spam/abuse, you cannot post comments on articles over a month old. Please check the sidebar to the right or the related band pages for recent related news articles.