Sidious Posts UK Tour Dates
Band Photo: Sidious (?)
Blackened Death Metal horde Sidious (featuring Eye Of Solitude members) will embark on a four day trip across the UK in July alongside The Infernal Sea, Ethereal and Scutum Crux in support of their "Ascension to the Throne Ov Self" debut EP released on May 2013 by Kaotoxin Records.
The band is currently busy working on their debut full-length which will be produced by their EP's producer Russ Russell (Dimmu Borgir, Napalm Death...) and released later this year.
Sidious has also been invited to join the bill of a very special event in September, "Wrongstock" - a festival of exclusively Russ Russell-produced artists. They will be joining the likes of Leng Tch'e, The Rotted, DripBack, Karybdis, Evil Scarecrow, Saturnian, Oaf and Shrapnel. Wrongstock will take place in London's The Underworld on September 20th.
SIDIOUS "Darkness Across UK" dates:
July 24 - Manchester @ Satan's Hollow
July 25 - Liverpool @ Lomax
July 26 - London @ Black Heart
July 27 - Birmingham @ Scruffy Murphy's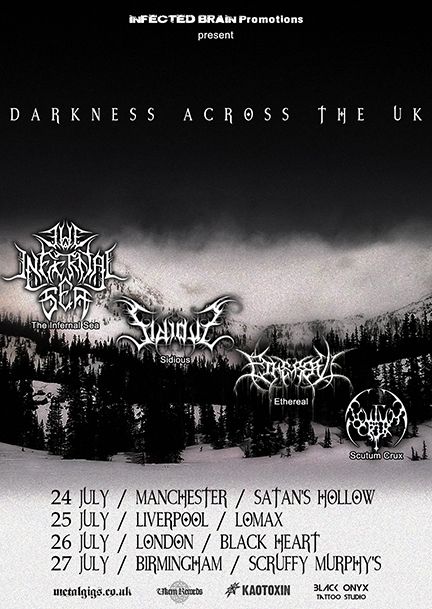 What's Next?
Please share this article if you found it interesting.
---
To minimize comment spam/abuse, you cannot post comments on articles over a month old. Please check the sidebar to the right or the related band pages for recent related news articles.