Hate Storm Annihilation Joining Master Tour Dates
Hate Storm Annihilation has issued the following announcement about joining Master on tour:
"Ladies and gentlemen, we are Happy/Sad to announce that due to some unfortunate last minute cancellation of one of the bands from the April tour WE are now the new DIRECT SUPORT for the Master North American Witchhunt tour!
"We are also extremely happy to announce that due to this lineup change our friends from Age of Ares will now be the newest addition to this tour lineup!!! VERY EXCITED TO GET ON THE ROAD WITH THESE GUYS! Happy Saturday EVERYONE!"
Age of Ares also comments: "Here it is everybody! We are proud to announce that Age of Ares will be returning from Europe on the 15th and will be flying out to New York on the 18th to join the "North American Witch Hunt Tour!!" We will be opening for the legendary Master! We want to say thank you to all those who have helped us out and given us these opportunities! Big thanks to our friends in Hate Storm Annihilation!! We wouldn't be here without you guys! Can't wait to tour with you guys!!"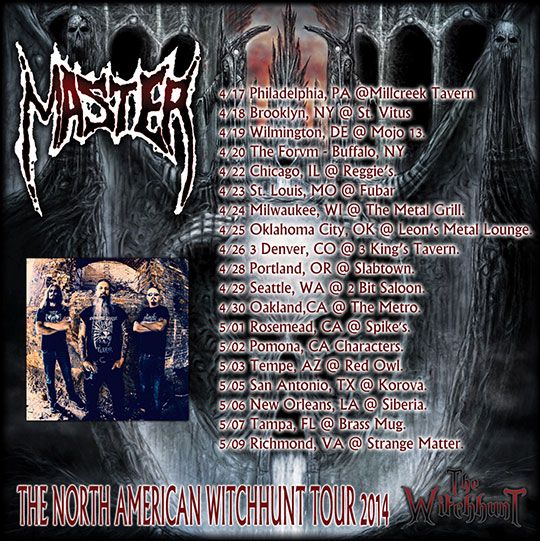 What's Next?
Please share this article if you found it interesting.
---
0 Comments on "Hate Storm Annihilation Joining Master Tour"
Be the first to comment! Tell us what you think. (no login required)
To minimize comment spam/abuse, you cannot post comments on articles over a month old. Please check the sidebar to the right or the related band pages for recent related news articles.