Centurian Re-Issuing Debut Demo And Album
Hells Headbangers has announced April 29th as the drop date for two early, seminal Centurian releases: the band's "Choronzonic Chaos Gods" debut and the preceding "Of Purest Fire" demo. The label comments on the coming re-issues:
"Originally released in 1999, Hells Headbangers is proud to present a well-earned reissue of Centurian's classic debut album, 'Choronzonic Chaos Gods.' Very aptly titled, Choronzonic Chaos Gods is a veritable vortex of chaos magick executed with military precision. Centurian at this stage could accurately be described as 'death metal,' but the ever-cyclonic, ever-coiling whirlwinds unleashed by the band take on a form more supernatural than physical.
"As such, Centurian's debut album found much favor with the black metal faithful at the time, as well as those who held hope for a flagging death metal scene; not for nothing was it released by the esteemed Full Moon Productions label. Now, Hells Headbangers unleashes Choronzonic Chaos Gods, out of print for years, on CD and, for the first time ever, vinyl LP."
The track listing is as follows:
1. Damned and Dead
2. The Law of Burning
3. Hail Caligula!!!
4. Misanthropic Luciferian Onslaught
5. Let Jesus Bleed
6. Blood for Satan
7. Soultheft
8. Cross of Fury
9. In the Name of Chaos
The track listing for "Of Purest Fire" is:
1. Intro: Evoking Demonstorms / Hell at Last
2. Soultheft
3. Blasphemy (Morbid Angel cover)
4. Better Off Burning
5. God Got Killed
6. Of Purest Fire
7. Damnation for the Holy (Inquisitor cover)
8. Outro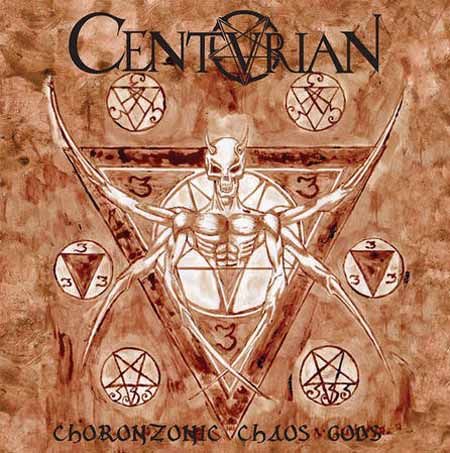 What's Next?
Please share this article if you found it interesting.
---
0 Comments on "Centurian Re-Issuing Early Releases"
Be the first to comment! Tell us what you think. (no login required)
To minimize comment spam/abuse, you cannot post comments on articles over a month old. Please check the sidebar to the right or the related band pages for recent related news articles.