Legionary Unveils "Once And For All" EP Cover Artwork
Legionary has revealed the "Once And For All" cover art, which can be seen below, and the band also comments:
"Here is the artwork for the upcoming Legionary EP 'Once And For All!' I want to first thank Mark Cooper for creating this for me. I was on a limited budget because I'm funding the entire recording, but he was still able to turn this simple concept into something sick.
"The concept behind the artwork is this... Throughout my life I've always felt like it was me against the world, whether it was because of my political beliefs, or because of my thoughts regarding the current state of heavy metal.
"I always saw myself as that lone legionary against those who thought they were bigger/better than they really were (and I've met quite a few of those along the way!). I always wanted a 'legionary' to appear on one of our artworks in some way, and I thought it would work perfectly here.
"The 'evil king' figure doesn't represent anyone in particular. Just someone who has brainwashed a bunch of people (represented by the soldiers in the back) through lies and deception. Someone who's big on words, and thinks that they're unmatched at what they do, but ultimately is weak. Again, I've met quite a few of those.
"This recording is basically going to be my way of saying 'fuck you' to all of those people who have tried to bring me down over the past 10+ years. They know who they are, and they'll all be crushed 'Once And For All' THIS SPRING!"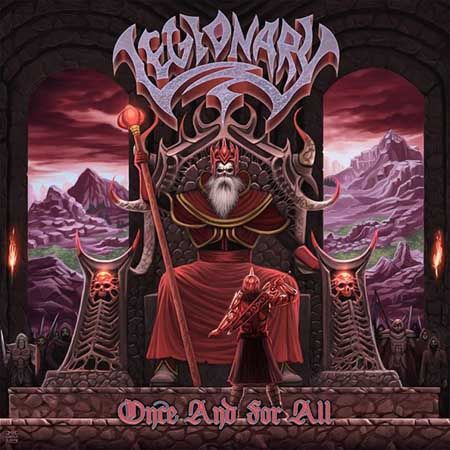 What's Next?
Please share this article if you found it interesting.
---
To minimize comment spam/abuse, you cannot post comments on articles over a month old. Please check the sidebar to the right or the related band pages for recent related news articles.