Rage Announces 30th Anniversary Release "The Soundchaser Archives"
German heavy metal act Rage is about to celebrate its 30th anniversary with the release of a unique collection of songs from the band's back catalog. Nuclear Blast comments:
"The Soundchaser Archives will contain 30 tracks put on two brimful CDs, covering everything from previously unreleased material or versions, demo recordings to fractions of ideas that finally went to find clear sonic ground. Additionally the 2-CD will contain a bonus DVD including the Rage performance of last years 'Masters Of Rock' festival.
"The Soundchaser Archives will be out on May 23rd, 2014 via Nuclear Blast. Diving into their own history, Rage has 21 studio albums released to date, covering three decades of an unbeatable heavy metal career."
The track listing is as follows:
CD1
01. Anybody Home?
02. Mystery Trip
03. In Union
04. Long Hard Road
05. Full Moon (International Version)
06. Nevermore
07. French Bourrée
08. A Perfect Day
09. Enough Is Enough
10. Here Comes The Night
11. Spiritual Awakening
12. Lost In The Void
13. The Missing Link
14. Another Kind Of Madness
15. Down To The Bone
CD2
01. The Speed Of Sound
02. Darkness Turns To Light
03. Death Is Alive
04. Gentle Murders
05. From The Cradle To The Grave
06. Refuge
07. Fugue No. 5
08. Last Goodbye
09. Dirty Wings
10. The Pit And The Pendulum
11. Waterfalls
12. Heads Off
13. Assorted By Satan
14. Shame On You
15. Soundchaser
DVD
Live at "Masters of Rock" Festival 2013
01. Cleansed by Fire
02. From the Cradle to the Grave
03. Scapegoat
04. The Devil's Bride
05. Empty Hollow
06. Lament
07. Suite Lingua Mortis:
- Prelude of Souls
- Innocent
- Depression
- No Regrets
08. Witches' Judge
09. Straight to Hell
+ Interviews & Bonus Videos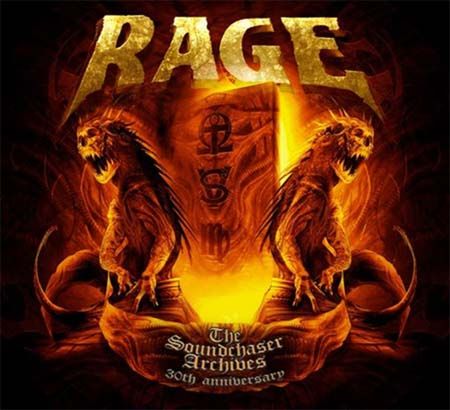 What's Next?
Please share this article if you found it interesting.
---
0 Comments on "Rage Announces 30th Anniversary Release"
Be the first to comment! Tell us what you think. (no login required)
To minimize comment spam/abuse, you cannot post comments on articles over a month old. Please check the sidebar to the right or the related band pages for recent related news articles.