Anathema Comments On Upcoming Tour Dates Supporting HIM
Following the band's recent appearance on the inaugural voyage of the "Progressive Nation at Sea" cruise, Anathema has announced a U.S. tour for March as special guests of Finland's HIM.
The tour marks just the second proper North American run for the acclaimed group. Commented lead guitarist/vocalist Daniel Cavanagh:
"Anathema is delighted to return to the United States as special guests of our personal friends Ville Valo and HIM. It's always a great occasion playing with our Finnish mates - as we've known each other's music for many years and have been sharing stages together on a number of occasions since our main support to them in the UK for 'Dark Light' in 2006. To do this in the United States, the birthplace of rock and roll and one of Anathema's true musical and spiritual homes, is just a fantastic prospect - especially so soon after our first headlining tour last autumn which was a success beyond our expectations. We hope to really provoke a strong reaction from the audience, and I'm sure we will perform a song or two from our brand new album, which is being finished as I write. HIM in the USA? Bring it on!"
Anathema is currently in the studio working on the follow-up to the 2012 album, "Weather Systems" (reviewed here).
3/07 - Los Angeles, CA @ House Of Blues
3/08 - Anaheim, CA @ House of Blues
3/09 - San Francisco, CA @ Fillmore
3/12 - Chicago, IL @ House of Blues
3/13 - Cleveland, OH @ House Of Blues
3/14 - New York, NY @ Irving Plaza
3/15 - Philadelphia, PA @ Theatre Of Living Arts
3/16 - New York, NY @ Irving Plaza
3/18 - Atlanta, GA @ Center Stage
3/19 - Orlando, FL @ House Of Blues
3/20 - Fort Lauderdale, FL @ Revolution
3/24 - New Orleans, LA @ House of Blues
3/25 - Houston, TX @ House of Blues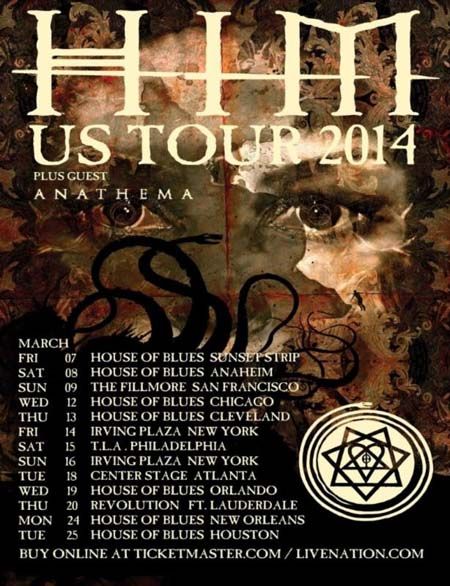 What's Next?
Please share this article if you found it interesting.
---
To minimize comment spam/abuse, you cannot post comments on articles over a month old. Please check the sidebar to the right or the related band pages for recent related news articles.