Cradle Of Filth Reissuing "Total Fucking Darkness" On Vinyl
Band Photo: Cradle Of Filth (?)
On May 5th, after more than 20 years, "Total Fucking Darkness" - the infamous third demo from the Cradle of Filth - will be officially released in vinyl format. Housed in a heavy gatefold sleeve with paintings featuring the twisted visions of Radio One Presenter and occult artist, Daniel P. Carter, the release will include some tracks previously unreleased by the band.
Frater Nihil, the founder of Cacophonous Records - the label that first signed Cradle of Filth - got together with Dani Filth and Paul Ryan (former guitarist and now in The King is Blind) to bring fans of the band, both old and new, a remastered version of the demo along with material that had been sitting in the vaults for 20 years.
The album kicks off with the track "Spattered in Faeces," the only surviving track from the "Goetia" sessions, followed on Side A and the rest of Side B with the recordings from "Total Fucking Darkness." Side C begins with another previously unreleased track, "Devil Mayfair (Advocatus Diaboli)," recorded at Samhain 1992, the rest of the side and the next feature the other three tracks from that session, along with two short instrumental pieces from the band's former keyboardist, Ben Ryan.
There will be a press of 666 copies in coloured vinyl for retail, with a Digipak CD version also available. The track listing is as follows:
Side I
Spattered in Faeces
The Black Goddess Rises
As Deep as any Burial
Side II
Unbridled at Dusk
The Raping of Faith
Fraternally Yours, 666
Side III
Devil Mayfair (Advocatus Diaboli)
The Black Goddess Rises
Seance And Mandrake (Instr.)
Side IV
The Raping of Faith
Unbridled at Dusk
Hekate Enthroned (Instr.)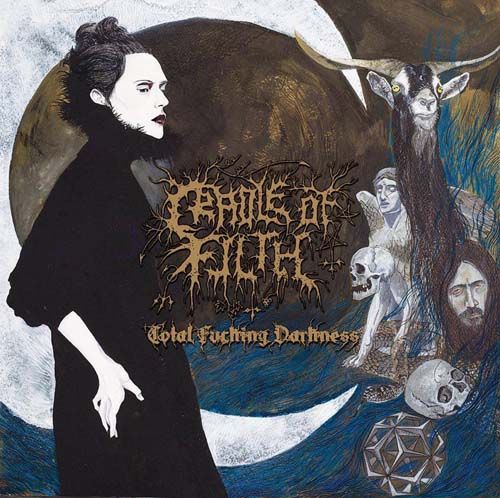 What's Next?
Please share this article if you found it interesting.
---
0 Comments on "Cradle Of Filth Reissuing 'Total Fucking Darkness'"
Be the first to comment! Tell us what you think. (no login required)
To minimize comment spam/abuse, you cannot post comments on articles over a month old. Please check the sidebar to the right or the related band pages for recent related news articles.