Holy Moses Splits With Band Member Olli, Announces Album Pre-Orders
Holy Moses will release new album "Redefined Mayhem" on April 29th, with pre-orders now available at this location.
The band has also now checked in with the following brief update about parting ways with Oliver Jaath: "Dear Friends of Holy Moses, we have to say, that Olli left the band... Olli, we wish you good luck and thank you for all these years!"
Olli also comments: "Hi folks, after almost 8 years I decided to part ways as guitarist with Holy Moses to start some new musical projects. Many thanks for all the exciting years. I wish Holy Moses all the best and success for the future, see ya soon!"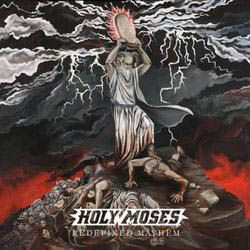 What's Next?
Please share this article if you found it interesting.
---
To minimize comment spam/abuse, you cannot post comments on articles over a month old. Please check the sidebar to the right or the related band pages for recent related news articles.